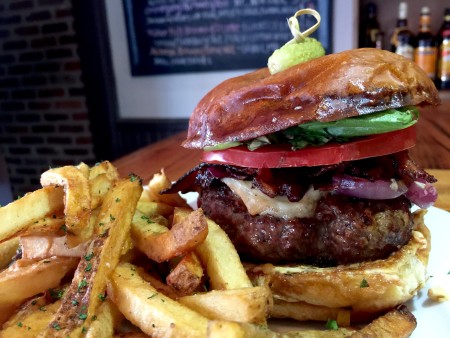 Bluegrass Tavern is one of my go-to neighborhood spots for great food. Their ever-changing menu keeps me going back for more. It's the ideal place for a casual night out and a great spot for date night. The outdoor seating is perfect for nice weather. Bluegrass also features an amazing brunch menu with free beignets if you check in on social. While they clearly don't specialize in burgers, they make one of the juiciest, most delicious, taste-popping burgers in Federal Hill.
Burger Ordered: Roseda Farms Dry Aged Burger with Apple wood smoked cheddar, grilled red onion, spicy mayo, bacon, lettuce, tomato, and hand-cut fries.
The Taste: Grab a napkin because this one is extra juicy. Rather than covering up the flavor of the beef with crazy toppings, Bluegrass chooses to compliment it with their aged cheddar cheese, house made ketchup and mayo. The beef is dry aged for at least 90 days before arriving. There's a reason this burger was listed Best of Baltimore. Prepare to turn on your resistance powers because the fries are tasty and the plate comes covered with them.
The Verdict: Be prepared for this to be the longest you ever wait for a burger, but pleasantly surprised by how flavorful and well worth the wait it is.
Bluegrass Tavern is located at 1500 South Hanover Street in Baltimore, Maryland.
Want to check out more of Jordan's Baltimore eats? Follow her on Instagram and Facebook.
Sign up for Burger Weekly email updates!