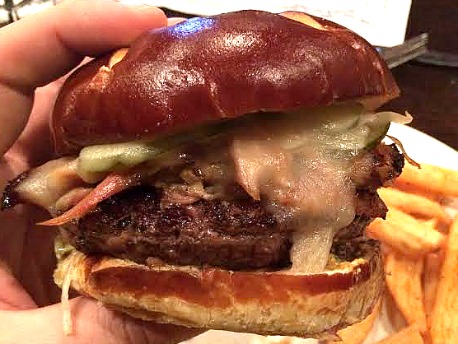 The Experience: Blue Tractor Cook Shop is a fairly popular establishment in downtown Traverse City, declaring themselves "an old school dining establishment." It began as Novotny's Saloon, which stood on the same spot in 1886. While Novotny's couldn't withstand the rigors of prohibition and closed its doors, it was reopened under new ownership in 1938. In the decades since, this location has undergone many ownership and name changes, but it's always been there. As for the current name, Blue Tractor, is a tribute to "The working folk of Traverse City who came here to put their feet up after a long, hard day's work – or even a mildly taxing one. Folks who – thanks to a miracle of modern technology, like, say a tractor – were able to carve just a few more hours out of their day to come here for food, friends and of course, beer."
Burger Ordered: Cuban Burger
The Taste: I admit that mustard and pickles are not usually amongst my favorite things. But after seeing Jon Favreau's delightful film Chef, I decided I would have to give Cuban sandwiches a try. Lo and behold, I actually enjoyed them a great deal, even with the mustard and pickles. I've found my pallet expanding as I grow older (and wiser), and the Cuban sandwich has been one of the biggest benefits of said expansion.
Now, I also love burgers. Like, a lot. I have since I was a child. My late grandfather used to often remind me even as an adult about the first time he saw me finish an entire adult-sized burger from my highchair. So how could I turn down the opportunity to combine my old love of burgers with my new love of Cuban sandwiches?
Blue Tractor Cook Shop in downtown Traverse City offers several different burger varieties, but this was the one I needed to have. The fresh, grilled to my order (medium rare, duh) burger came topped with pit smoked pulled pork, jack cheese, pickles, lettuce, secret sauce, and yellow mustard. This combined the best elements of burger and Cuban sandwich into one delicious masterpiece. Either just a burger, or just a Cuban sandwich on their own would be worth ordering from this establishment, but together it was like a party in my mouth and everyone was invited.
The Verdict: Marrying a burger to a Cuban sandwich is such a great idea, and Blue Tractor Cook Shop has this combination mastered. Strongest recommendation to devour.
Blue Tractor Cook Shop is located at 423 South Union Street in Traverse City, Michigan,
Sign up for Burger Weekly email updates!