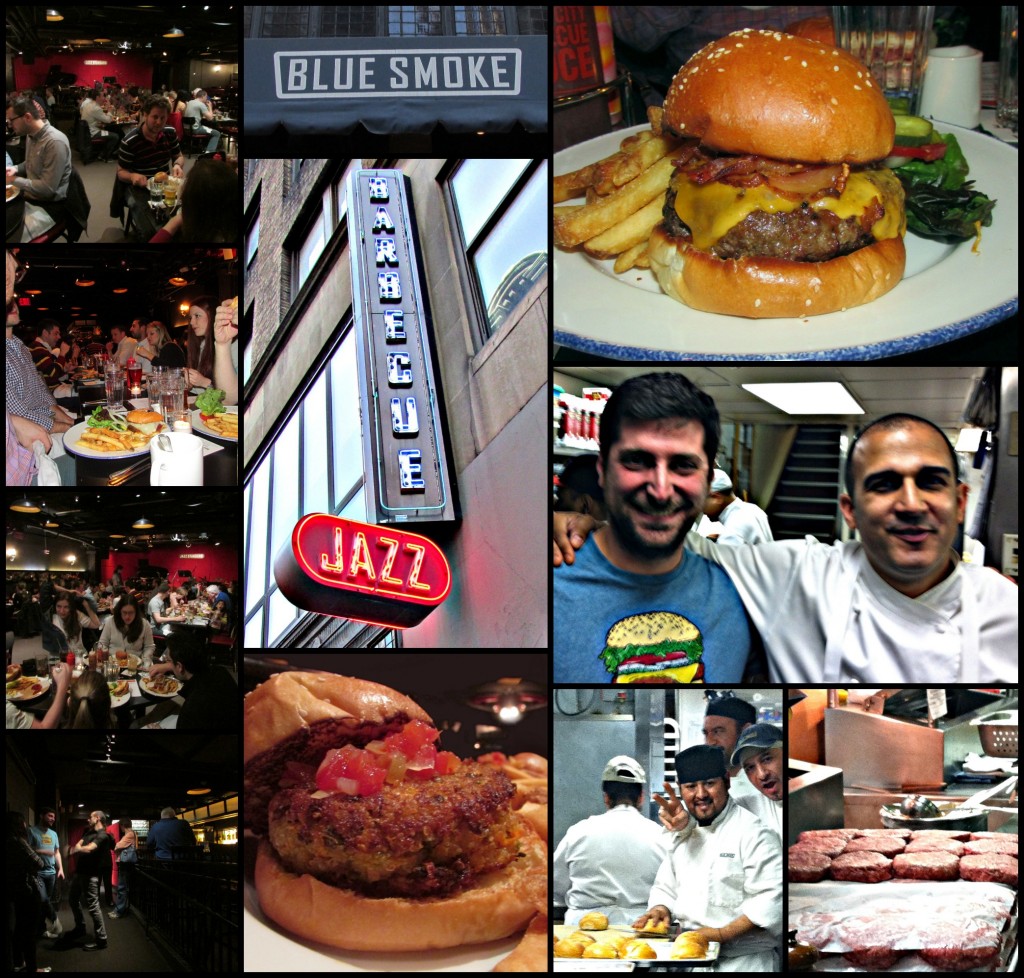 The Experience: After one hundred weeks eating burgers throughout the five boroughs of New York City, it finally came time for BurgerVersary 100. The Burger Weekly crew had heard that Blue Smoke was a great spot to host a big party. Blue Smoke's Jazz Standard room proved to be just that. The largest group of Burger Weekly Burgermeisters ever assembled dined together in Blue Smoke's basement room. Fun was had, music was enjoyed (courtesy of the talented Toby Singer), beers were imbibed, and food was devoured. But just how good were the burgers eaten at Burger Weekly's 100th burger outing?
Burgers Ordered: Blue Smoke Burger, Blue Smoke Cheeseburger, Blue Smoke Bacon Cheeseburger, Hickory Smoked Vegetable Burger.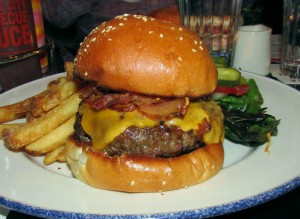 The Taste: Every last attendee at this Sunday lunch was given an opportunity to opine on their burgers. On a scale of 1 to 10, with 10 being the best burger of all mind-blowing time, the average score from scores of hungry eaters was an 8. Given how many burgers were served, this is an astonishing feat. Just last week, a large group of burger-lovers slammed Murray Bar for the unpredictable tastiness of their burgers. No such problem occurred at Blue Smoke, where every burger was cooked to order, juicy, and succulent.
The general consensus was that the hamburger patty was charred to perfection on the outside, while cooked to everyone's specifications within. The buns were soft and tasty, and the bacon was an excellent accompaniment for those who ordered it.
Those who ordered Swiss, cheddar, or American cheese felt that more cheese would have made that particular ingredient stand out more, while those who were daring enough to order bleu cheese said that it was certainly strong enough to stake its claim as a noticeable ingredient.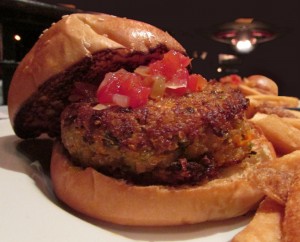 Only about one-tenth of the Burgermeisters in attendance ordered veggie burgers. Those eaters felt positive about flavor of the steamed veggie burger, but some found the patty to be too soft and structurally unsound. All enjoyed the chutney.
And now for the sides and sauces. The macaroni and cheese was the most well-received, though those who ate the coleslaw insisted that it be favorably included in this review. What the Burgermeisters found most interesting was how split everyone was on the fries. Salty, and cut to a medium thickness, some loved them and some were less pleased. Burger Weekly chalks this up to folks being very particular about the way in which they are served fries. The BBQ sauces were varied and fun, and used on just about every item mentioned above.
The Verdict: The staff at Blue Smoke are consummate professionals, and Burger Weekly highly recommends using them for any of your partying needs. Chef Eddie Montalvo is a class act and makes a hell of a burger. If you want a party hosted or just an excellent dinner, Blue Smoke is a safe bet and an excellent time.
Blue Smoke is located at 116 East 27th Street in Manhattan, New York.
We are so proud of our 100-burger feat that we'd love it if you'd check out some of the ride to get there.