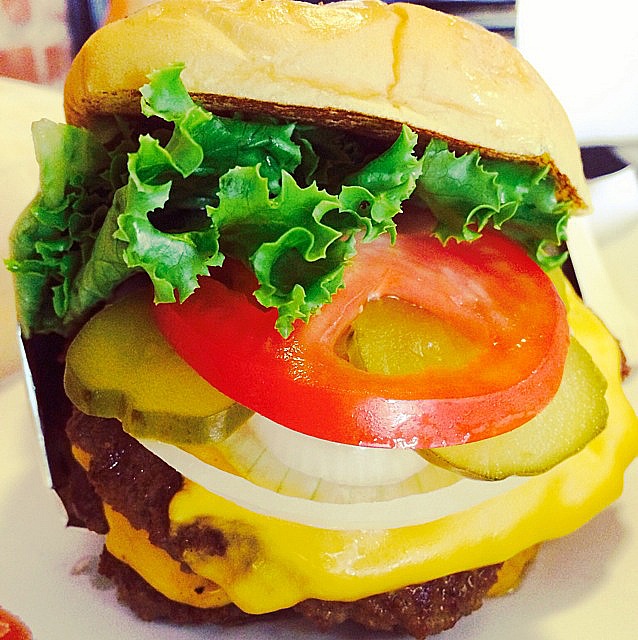 The Experience: I have lived in New York City for six years, and in that time I have resided in eight apartments. I have lived in my most recent apartment, a cozy Hell's Kitchen spot, for two years, by far the longest stretch I've spent in any one place. But all things come to end, and as of July I'll be returning to Williamsburg. I lived in Williamsburg in 2012, and have come to appreciate it as a neighborhood that knows how to make a good burger. It's for that reason that I'm disappointed in myself for having overlooked Blue Collar, a classic burger joint that should speak to the heart of any burger purist, and opened while I lived there in 2012.
So after trudging through the Bicycle Fetish Day festivities (yes, this was a real thing happening in the place you'd most expect it to happen), I made my way to into Blue Collar for the first time. The menu is small, with little more than single and double-patty cheeseburgers and hamburgers available. After a short wait, I sat at one of the six tables and prepared myself for a sizable burger and mountain of fries.
Burger Ordered: Double Cheeseburger
The Taste: I once heard this burger described as an ode to In-N-Out Burger. I have come to realize that this is little more than a marketing point for east coast burger joints, as In-N-Out, while tasty, is not unique enough a burger that it cannot be easily replicated. Hell, Steak 'N Shake is quite similar in taste to In-N-Out, albeit less creative in its menu options. That said, this burger is as competent as a double cheeseburger from a counter gets. I was pretty hungry, and I housed this bad boy in true Slow Down Burger fashion. The fries were tasty, salty, fast food fare. I left incredibly satisfied and only the tiniest bit worried that I'd overstuffed myself in too small a period of time.
The Verdict: For a burger under ten dollars, this one is a real winner. You get a lot of flavorful beef and cheese for your dollar, with the knowledge that your burger was cooked with more attention than at a fast food joint.
Blue Collar is located at 160 Havemeyer Street in Brooklyn, New York.