Burgers Ordered: Brad – The Blue 9 Burger; Matt – The Spicey Blue 9 Burger.
The Experience: The Burgermeisters have taken a vow to try all of the most notable burgers in New York City, one week at a time.  Sometimes, that means dropping a pretty penny on a gourmet hamburger.  There are weeks however, when the Burgermeisters' wallets feel light and they desire a simpler, more standard and accessible (read: cheap) burger to get them through the week.  This was one such week.
Luckily, New York City is filled with a variety of unique fast casual burger options.  Currently, Joy Burger Bar tops the Burgermeisters' list of quick-fix spots (a list that also includes Shake Shack and Burger Joint).  It was the perfect week to see where Blue 9 Burger measured up.  Fun fact: The Burgermeisters' buddy Ben has done voiceover work for Blue 9 Burger.  If you need some voiceover work done, give Ben a call (and maybe let him know that he owes Burger Weekly a favor now).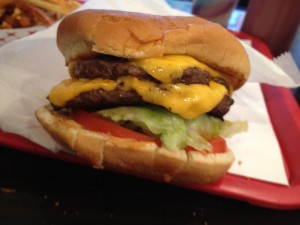 Fast Food from Scratch.
The Taste: A Blue 9 Burger comes with double meet, double cheese, lettuce, tomato and thousand island dressing.  For 50 cents extra you can get it spicy, with mango sauce or with pickle and onion.  Matt went spicy and said that by the time he was done his sinuses were clear and his mouth was on fire.  Brad was jealous.  Matt didn't like his bun, saying it actually tasted a bit stale.  However, it didn't detract from the burger, which he found to be a suitable meal for the low price he paid.  He said he probably wouldn't remember it a week from now given that it didn't do much to stand out from the pack.
Brad enjoyed his burger a lot.  Though upset that he didn't notice the add-on options until it was too late, he found Blue 9's burger to be superior at least to Burger Joint's in the hierarchy of fast food burgers.  His bun was not stale, and in fact every ingredient tasted quite fresh to him.  Though the burger was well done, as fast food burgers often are, it was juicy without being greasy, which he appreciated.
Both Brad and Matt liked that Blue 9 Burger's fries weren't the typical McDonald's french fry ripoff.  They were seasoned in a unique was and cooked to be crispy and well done.  In the fast food game a burger joint has to do everything it can to stand out, and Blue 9 Burger's fries were a step in that direction.
The Verdict: Though certainly not a challenger to Joy Burger Bar as far as the NYC Fast Food Burger Championship goes, Blue 9 Burger serves a competent and satisfying meal.  If you're near one you could do a lot worse, but this is hardly a destination spot for burger lovers.
Blue 9 Burger is located at 92 3rd Avenue between 12th and 13th Street.