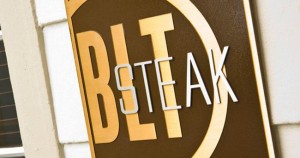 Burgers Ordered: The Certified Angus Beef Hamburger
The Experience: On a hot day in Miami, the Burgermeisters were in need of an afternoon snack and headed over to BLT Steak to split a burger. Though not known especially for its burger, save for it being chef Francois Payard's favorite burger, BLT Steak is known for its quality. Needless to say, expectations were high.
Located in the lobby of the Betsy Hotel, BLT Steak provided a perfect afternoon break for the Burgermeisters, who sat under an umbrella on the porch of the Betsy. The waiter was friendly and assured them that the burger was delicious with or without cheese. It burger arrived looking juicy on a perfectly seeded bun, albeit with too much lettuce. An overabundance of Rabbit Food is never necessary.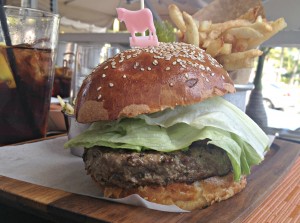 The Taste: After the first bite, not an ill word was said about this burger. Hardly a word was said at all given the amount of food in the Burgermeisters' mouths. The meat was cooked to perfection, a perfect reddish pink in the center. The bun added just the right balance to soak up the juices from the burger, as well.
The burger came with a mustard coleslaw that left the Burgermeisters perplexed as to whether it was tasty or just unique. The fries were perfectly salted and, along with two diet cokes, rounded out this classic American combo.
The Verdict: Though nothing innovative was had, the quality of BLT Steak's burger confirmed that when prepared well, there is nothing like a classic hamburger. Take off a slice of lettuce though unless you want to feel healthy (in which case, why are you ordering a burger?)
BLT Steak is located in the Betsy Hotel at 1440 Ocean Drive in Miami Beach, Florida.