Smuggled in by Pat LaFrieda
Burgers Ordered: Brad & Allison – Cheeseburger
The Experience: The Burgermeisters knew they hit it big when the circumstances surrounding their Burger Adventure at Black Market came to pass.  After a year of Burgermeistering across New York City, Burger Weekly's Gmail account finally started receiving what could only be termed as "fan mail."
Allison's email was particularly intriguing to the Burgermeisters, because after some reverse internet stalking they realized that she too had quite the web presence.  Arrangements were made to go to Black Market for a burger and a discussion on sharing webernet knowledge.  Sadly, Matt bowed out, continuing his summer hiatus from Burger Weekly, but the meal occurred nonetheless.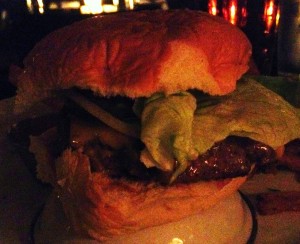 Bad lighting, great burger.
The Taste: Brad and Allison both ordered Black Market's standard cheeseburger.  Allison stuck with the standard American cheeseburger while Brad switched things up with Gruyere for an extra buck.  He rarely misses a chance to slap Gruyere on his burger.
The Burgermeister and his guest were both of one mind when it came to Black Market's offering; the burger was succulent, cooked as ordered, with flavorful cheese and a soft bun.  They knew the memory of the burger would only stay with them for so long, as the patty itself, while quite tasty, had no unique qualities to put it in the upper echelon of New York burgers.  The french fries were plentiful and delicious as well.
The Verdict: Black Market is a very good burger in a neighborhood filled with very good burgers.  If you find yourself at Black Market at a friends' suggestion, you'd do well to get the hamburger. The ambiance at the joint ain't too shabby if you're looking for a more intimate place to chat, too.
Black Market is located at 110 Avenue A at 7th Street.