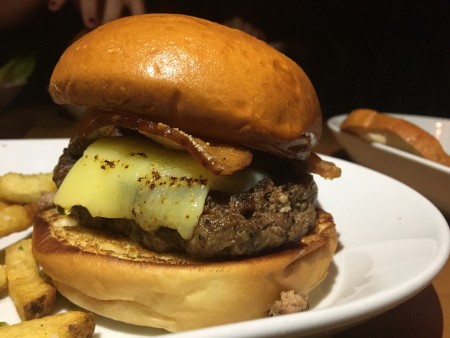 If you try to search for BL Burger Bar on Yelp or Google Maps, you'll be out of luck. The Black Lodge is what you should be searching for, though the folks running the joint haven't quite gotten around to updating their location data online. What they have updated is their menu, which is now structured in an interesting way. On the right side of the menu is a list of burger patties; beef, lamb, pork, chicken, fish. Each comes on a bun with fries. On the left are the so-called platters, ranging from simple bacon and cheese, all the way up torchon fois gras. You could find yourself ordering a very expensive burger, depending on the platter, or you could keep it simple, like I did.
Burgers Ordered: Bacon Cheeseburger and a Bacon Egg and Cheeseburger
The Taste: The most unique aspect of BL Burger's concept is that the cheese is melted on your burger at your table using a torch. It's toasty and fun. I may have made a mistake ordering the beef patty, especially in the face of the pork and lamb both being more recommended by my waitress, because I felt that more effort was put into the platter aspect of the meal. The BEC burger comes with two eggs, and I ended up stealing one from my friend's platter to add a little more juice to my situation.
The Verdict: There's a couple of fun pieces of flare setting BL Burger Bar apart from other burger joints in NYC. But don't be like me; trust your waiter's recommendation.
BL Burger Bar is located at 20 Prince Street in Manhattan, New York.
Sign up for Burger Weekly email updates!