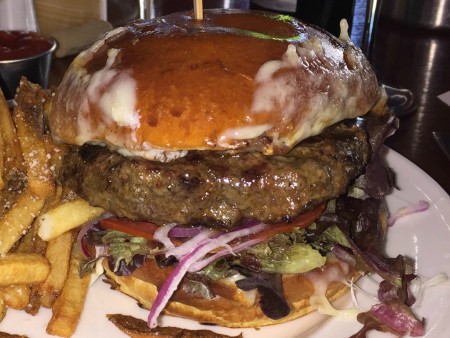 The Bistro at Red Bank has become my go-to Friday night spot. The atmosphere is awesome. Great appetizers like the Tuna Tacos and Shrimp Kamikaze are always a good start. The pizza and sushi are always delicious. But what keeps me going back for more is the lone burger on the menu.
Burger Ordered: Bistro Kobe Burger
The Taste: This burger is without a doubt the best in Red Bank, and definitely one of the best in the Jersey Shore Region. The kobe beef patty is big and juicy, and would be delicious on its own. It's then topped with Monterey jack cheese, tomatoes, lettuce, red onions, and loads of crispy onions that are done just right. The bun is always perfectly toasted, and the unique thing about this burger is that they melt the cheese upside down onto the top of the bun. It makes for a cool visual, and an awesome taste. The burger is served with a bucketful of parmesan-herb fries that when you see the plate, seem to be too much. When you realize how good they are, you eat them all. The few pickles on the side are also just a little better than anywhere else.
The Verdict: If you're looking for a great burger in the Monmouth County area, look no further than The Bistro at Red Bank. Give it a shot one time and you'll become a regular just like I have, guaranteed.
The Bistro at Red Bank is located at 14 Broad Street in Red Bank, New Jersey.
Sign up for Burger Weekly email updates!