Listen To My Podcast –> Read About This Burger |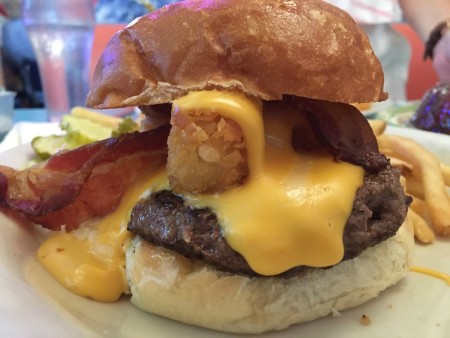 Have you been listening to my podcast, Like Bite & Share? You should, because I think it's amazing. It also led me to this burger at Big Daddy's. Here's the story: My co-host and I invited Julie Zucker, the marketing director for Big Daddy's (and Duke's), onto the show to talk about the restaurant's Pokemon milkshake. I can only handle so much talk about burgers and shakes before I have to eat them, so I found myself at Big Daddy's on one of the hottest days of the summer. I run a burger blog, so I got caught up with that section of the menu and actually forgot to order a shake while I was there. But I did eat the Monkey Bread and I can confirm that it's addictive, delicious, and makes for a spoiler of an appetizer.Burger Ordered: The Grand Daddy
The Taste: The Grand Daddy is a Certified Angus Beef patty topped with ooey gooey cheese, tater tots, pickles, and bacon. This is hands down the cheesiest burger I've ever had. You'd think Murray's Cheese Bar would have a cheesier burger, but you'd be wrong. To look at it, you'd think the burger at Invite Only was cheesier, but it didn't leave cheese in my beard the way the Grand Daddy did.
Once I got past the novelty of the cheese, I was taken aback by how delicious this burger was. Sure, I knew they used quality beef. And sure, I saw that even on a scorching hot day, this poor air-conditioned restaurant was still packed with a line waiting to be seated. But somehow I was skeptical that the food would hit the mark. I figured that like other old restaurants in New York City, the burger competition would have eclipsed Big Daddy's. I won't make that mistake again.
The Verdict: This place has been around forever, and with customers this loyal and food this decadent and tasty, it's going to here for you with succulent burgers for years to come.
Big Daddy's is located at 239 Park Avenue South in Manhattan, New York.
Sign up for Burger Weekly email updates!