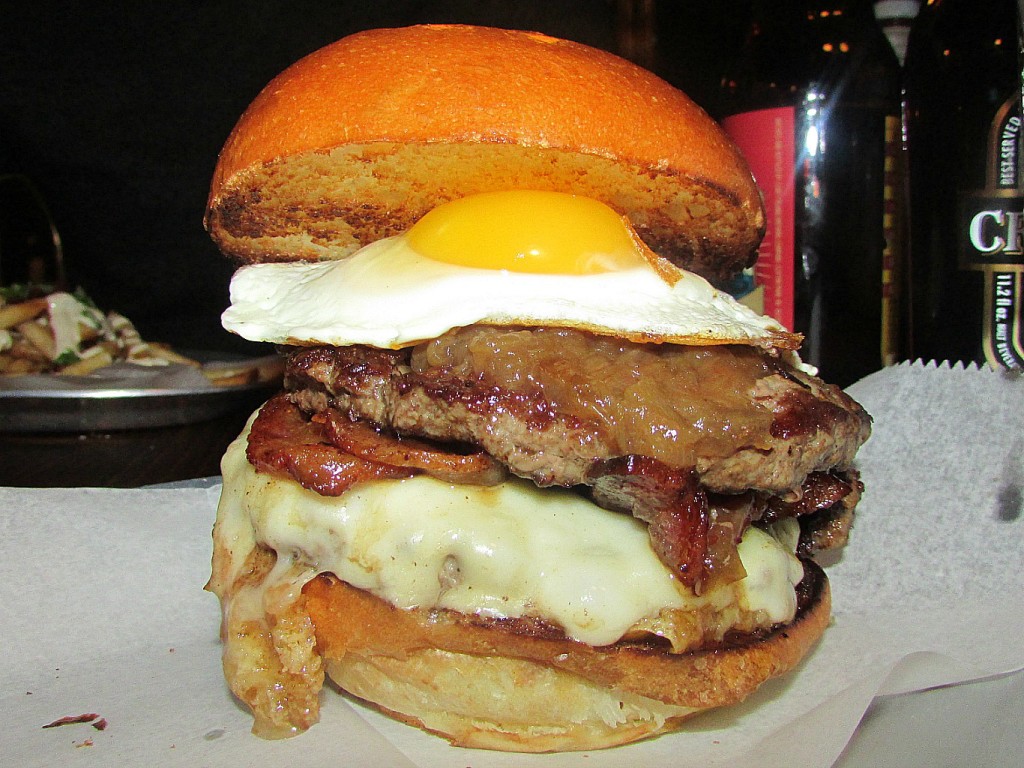 The Experience: I have an intense affection for Black Iron Burger. It was my number one burger in 2011, the year I started this blog. It was the burger joint I chose as the most sure-fire way to give the First Lady of Burger Weekly's family a tasty meal when I met them for the first time. After that, the First Lady became a Black Iron Believer and began taking the special people in her life there for birthdays and such. And though it officially holds the number two position on my Top 100 NYC Burgers list, I've come to consider it number one.
As such, when I made dinner plans with Matt, the other original founder of Burger Weekly, it made sense that we would visit Black Iron's new Hell's Kitchen location. Their space on West 38th Street is much bigger than the small East Village, though it was packed on a weeknight regardless. The staff was just as friendly as at the original location, and got our drink and burger orders in quickly.
Burgers Ordered: The Masterpiece and the Black Iron
The Taste: In 2011, I ordered the Iron Horse Burger, a double 4oz patty topped with horseradish cheddar and grilled onions. That burger is no longer on the menu, but its spirit and general composition continue on in the eponymous Black Iron Burger. Matt enjoyed this burger, eating it swiftly along with a side of fully loaded french fries. I went with the Masterpiece, a double patty topped with Swiss cheese, stout caramelized grilled onions, a fried egg, and applewood smoked bacon. This has been my go-to burger at repeat Black Iron visits for the past four years, and the only burger I'm willing to eat over and over again in New York City (since I typically opt to try as many new burgers as possible). The patties' seasoning was slightly less acute than I was anticipating, which also meant that the bun's sweetness was not balanced by as much umami. Still, even on a slightly off day, the Masterpiece proved to be a better burger than most this world of mortals has to offer.
The Verdict: At this point, Black Iron is my go-to answer when people ask me what my favorite burger in the city is. I can honestly say I prefer the East 5th Street location, but I wouldn't hesitate to pop back into the 38th Street joint. Black Iron is actually opening a third location on 7th Avenue soon, and you can bet I'll be one of the first in line to dine there.
Black Iron Burger is located at 245 West 38th Street in Manhattan, New York.