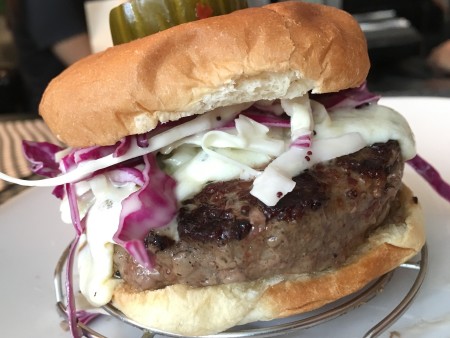 Bespoke Kitchen gets its name from the customizable fish, poultry, meat and vegetable experiences that they offer. But I'm a simple man after simple burgers to write about on Burger Weekly, so while I appreciate the sleek restaurant's concept, I completely ignored it and ordered their burger.
Burger Ordered: The Burger
The Taste: The Burger is topped with aged Angus beef, cabbage, and a self described "Dijonnaise" sauce on a potato roll. The bites that were heavier on the sauce were fantasy-inducing moment-makers. The bites without were less exciting, but to be fair they had a lot to live up to. The cabbage added a nice crunch to the meal, and the sweet potato chips that came in a cute bag alongside the burger were melt-in-your-mouth stellar. I don't usually expect a chip to melt in my mouth, but these did and the experience was tremendous.
I also have to mention the Walk of Shame Bloody Mary, which is garnished with a tiny grilled cheese sandwich, two different cuts of bacon, pastrami, sausage, and pickles. The garnish would be delicious on its own, as would the Bloody Mary, but together they make a delightfully campy photo opportunity… I mean drink/appetizer.
The Verdict: Bespoke Kitchen has a bit of a sterile look, by design, but the food on the menu is a lot of fun, and a knowing nod that the restaurant doesn't take itself too seriously.
Bespoke Kitchen is located at 615 1/2 Hudson Street in Manhattan, New York.
Sign up for Burger Weekly email updates!