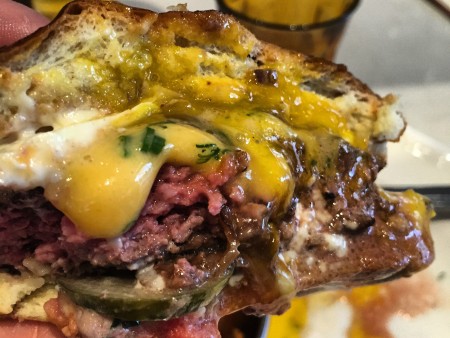 I visited Bernie's Lunch & Supper during peak brunch hours and the place was hoppin'. On this visit, I decided to sit at the bar and pick the bartender's brain regarding what it was like to be a new and upcoming restaurant in Chicago. He had positive things to say and told me all about their great cocktails. I let him know why I was there, and he quickly had a burger made for me. He told me he loaded it up.As I looked around the restaurant, everyone seemed to be enjoying their time and having great food. By the time I looked back to talk to the bartender, I smelled an amazing burger in front of me. That's great service.
The Burger: Bernie's Burger
The Taste: I always cut my burgers in half. Maybe it was something I was taught when I was younger, but I do it every time. In this instance, I was very happy that I do it because otherwise, I would have had juices all over my shirt and pants. I joked to myself that this burger was a hot mess because it really was. The flavor profiles were somewhat bland, but all the ingredients together nicely.
The burger was made of a house grind, bacon, egg, aioli, dill pickles, and onions on a brioche bun. Unfortunately, the bun couldn't handle the juices and crumbled under the pressure. By my third bite, parts of the beef were falling out of the bun.
The Verdict:  Give Bernie's Lunch & Supper a shot for brunch. If you are craving a burger, the Bernie won't let you down. It's an above average burger, which is always a good thing on a hungover Saturday or Sunday.
Bernie's Lunch & Supper is located at 660 North Orleans Street in Chicago, Illinois.
Sign up for Burger Weekly email updates!