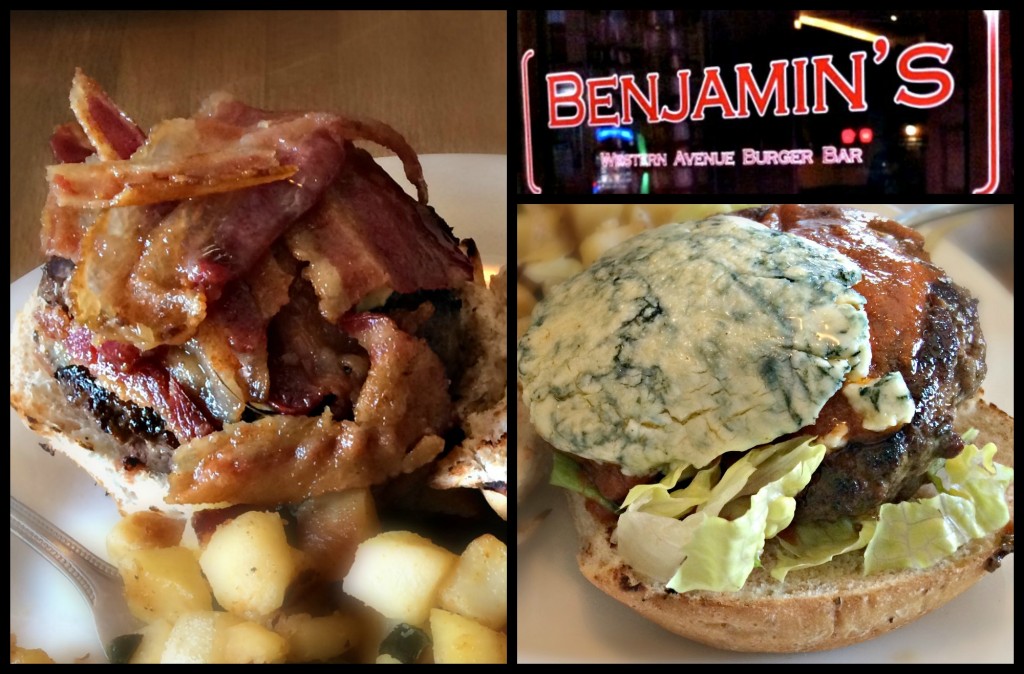 The Experience: As a lifelong New Yorker (with a brief stint in D.C.) and the last 8 years spent in the foodie paradise of Brooklyn, NY, my upcoming move to Pittsburgh, Pennsylvania, while exciting for personal reasons, comes with a food snob's trepidation.  Visit by visit, my fears are gradually being assuaged by excellent food encounters, and burgers are no exception. Last week, I visited Benjamin's Western Avenue Burger Bar with my boyfriend Josh, on his recommendation. I trust his judgment, but I admit I was still slightly skeptical.
Burgers Ordered: The Buffalo Bleu Burger and The Candied Jalapeno and Bacon Burger
The Taste: I was pleasantly surprised to discover that this burger not only exceeded my expectations, but was a far better burger than any that I've recently had in Brooklyn or Manhattan. I had the burger with buffalo sauce, blue cheese, and romaine lettuce. It was cooked to medium-rare perfection; juicy, but not so much that the bun was soaked or juice was dribbling down my chin. The carved cap of blue cheese and modestly portioned topping of buffalo sauce complemented the burger, but did not overpower it, making for a delicious flavor combination. Josh had the burger with candied jalapeno cream cheese and bacon. The burger was cooked perfectly and the toppings on this burger were also perfectly portioned for maximum flavor. Also mentionable are the bacon fat fried home fries. The name of those speak for themselves.
The Verdict: Thank you, Benjamin's, for helping me add one more food necessity to my ever-growing list of fantastic Pittsburgh establishments.
Benjamin's Western Avenue Burger Bar is located at 900 Western Avenue in Pittsburgh, Pennsylvania.