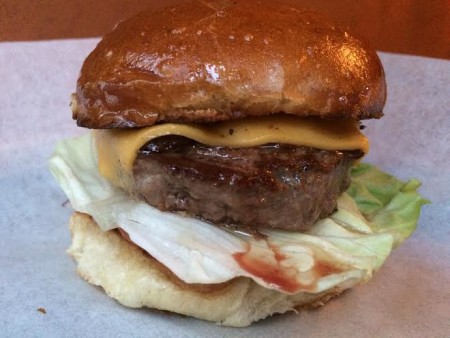 I have moved eight times since arriving in New York City in the summer of 2008. For the last two years, I have resided on the border of Greenpoint and Williamsburg, and it has been far and away the best living situation I've had. Sadly, in a few weeks I'll be leaving my little slice of paradise and moving back to Manhattan. To temper the extreme emotions I'm feeling, most of the next few weeks of my NYC burger reviews will cover my Brooklyn Farewell Burger Tour, and Belle Shoals is up first.
Occupying the space once held by Good Co, Belle Shoals is an ode to the ideals of southern blues and soul, with a heavy emphasis on cocktails and an eye for a very specific kind of nostalgic burger. 
Burger Ordered: The Drug Store Burger
The Taste: Unbeknownst to me, drug stores of old sold not only shampoo on top of prescriptions, but also grill-top lunch food. Nothing tastes better on a grill-top than burgers, and so Belle Shoals slings a patty worthy of '50s longing. The Pat LaFrieda brisket and short rib patty is topped with cabot cheddar (for a couple bucks extra), LTO, and a secret sauce.  The spongy, white bun, onion, and seared meat combine for the most delightful crunch you can imagine.
But that's not all there is to love at Belle Shoals. The fried duck leg biscuit sandwich is incredible, the jalapeno hush puppies are junk-food-genius, and the french fries come with a dope, smoked mayo (not to be confused with dope smoked mayo, which I would imagine is a whole other kind of thing).
The Verdict: This place opened just over a month before I leave the neighborhood. That hardly seems fair. I hope to see some of you when I make my commute from Manhattan to Williamsburg to have this burger again in the future.
Belle Shoals is located at 10 Hope Street in Brooklyn, New York.
Sign up for Burger Weekly email updates!