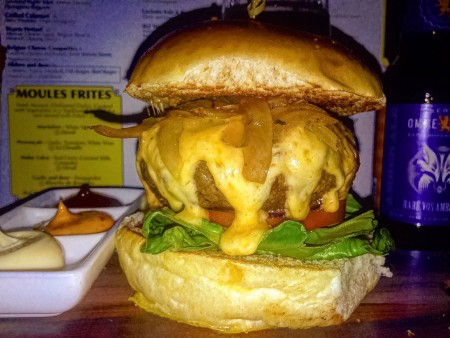 Do you know what a Kwak is? I didn't, until a couple years ago when I popped into Belgian Beer Bar with a few friends and saw this wonderful take on beer. To this date, I haven't found many more places in New York City that serve a Kwak in its wonderful, round-bottomed-glassed, wooden-holder-assisted glory. They also serve a couple of burgers, both of which looked delicious to me. So I revisited Belgian Beer Cafe recently and asked the manager which burger she preferred. She reluctantly told me she liked the Black Angus Cheese Burger over the B.Cafe Smoked House Burger, so that's what I ordered.
Burger Ordered: Black Angus Cheeseburger
The Taste: Topped with IPA cheese Sauce, Bourbon Onions, and veggies, this burger was something of a journey. The flavorful bun was actually a bit overwhelming and cumbersome at first. It also fell apart and fell away a bit once the other heavy elements of the burger took its toll on it. That said, once the bun began to take a back seat, those other elements really got to shine. Most importantly, the beef was delicious. Every bite of the patty's crispy crust was fantastic and packed with savory flavor. The cheese was a nice consistency (not as runny as the photo above would have you believe), and added a delightfully soft balance to the more resistant meat and bread.
The Verdict: I'm going to have to go back and try the other burger, becuase Belgian Beer Cafe earned major points in my book. And I didn't even mention their delicious fries and sauces!
Belgian Beer Cafe is located at 220 Fifth Avenue in Manhattan, New York.
Sign up for Burger Weekly email updates!