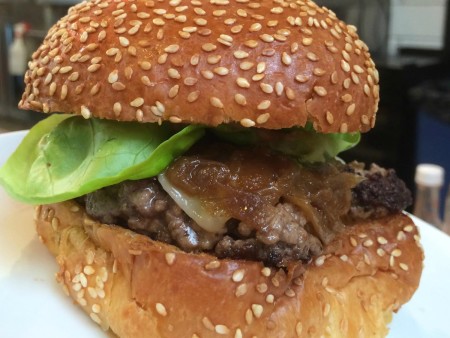 Belcampo Meat is a Northern California based company who raises and butchers their own organic cattle. There are 7 locations in California; 4 in the Bay Area; 3 in Southern California. In addition to selling the freshest cut of organic meats, this butchery and restaurant also serves a mouthwatering juicy burger. Each location serves a variation or two of their burger, but the signature Belcampo Cheeseburger is what you want. Don't fill up on carbs; order the burger a la carte so you can savor every last bite of its yummy meatiness.
My favorite go to Belcampo location is downtown Los Angeles at the Grand Central Market; a food lovers paradise. Here you'll find Belcampo's excellent selection of meats and a small row of counter seating in a fun, open retro diner setting.
Burger Ordered: The Belcampo Cheeseburger
The Taste: The 5.5 ounce Grass-Fed burger is made up of Belcampo's premium grind, which consists of Wagyu Angus chuck, sirloin, brisket and a dash of salt. It's then cooked on a flat top to the temperature of your liking; I suggest medium rare to savor it's juiciness, texture and flavor. The burger is topped with carmelized onions, Cheswick White Cheddar, a house made ketchup aioli then sandwiched on a buttered brioche bun from local bakery, the Bread Bar. What makes this burger so delicious and tasty is the freshness of the meat and the care put into cooking each patty. Belcampo gently pats their burgers when forming, which helps distribute the flavor and fat of each of the 3 meats evenly. 
The Verdict: Belcampo's Cheese Burger is $12.50 and served daily at lunch and dinner the evenings the market is open late. Call for specific hours. I suggest going during the day so you can also enjoy some of the other eats that Grand Central Market has to offer.
Belcampo Meat Company is located at Grand Central Market, 317 South Broadway in Los Angeles, California.
Sign up for Burger Weekly email updates!