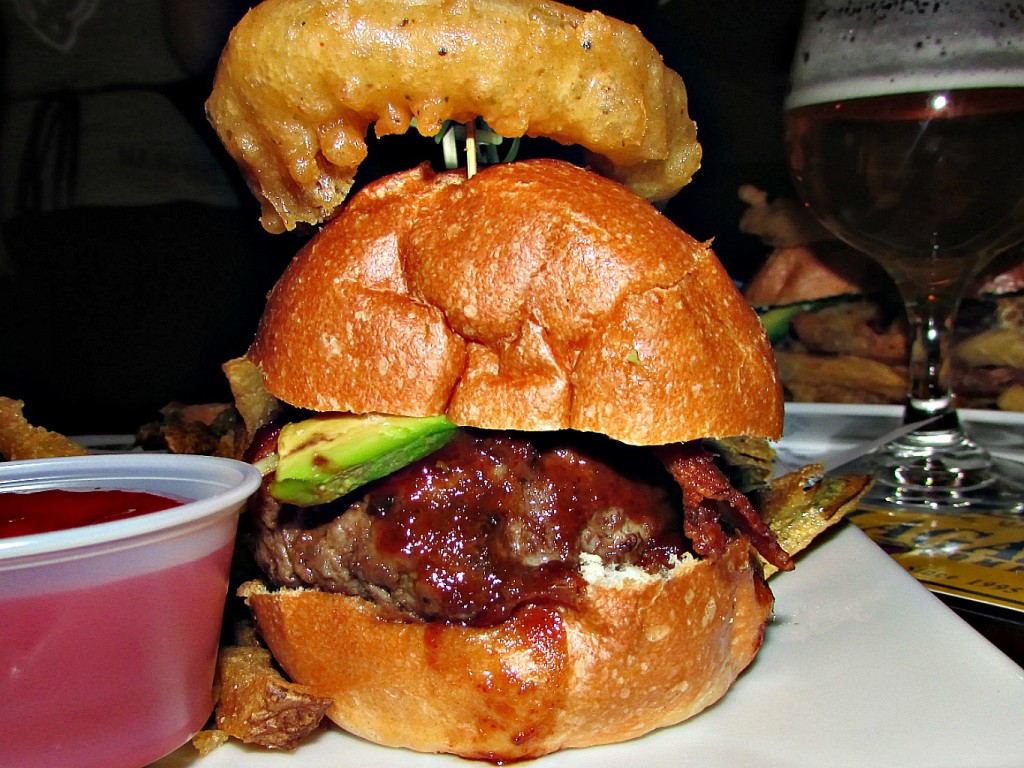 The Experience: Another New York Burger Week is in the book, and with it brought multiple delicious hamburger-centric events. As has become a yearly tradition, Burger Weekly got involved in Burger Week again this year. This time around, it was a Burger Beer Dinner at Beer Authority, the massive bar near Port Authority Bus Terminal. I had never heard of or been to Beer Authority before this year's Burger Week, but having now been there I can't think of a better place to spend your time while waiting for your bus out of town.
The Burger Beer Dinner saw Beer Authority craft three special off-menu mini burgers paired with three very special brews from Allagash Brewing Company. I have never been much of an Allagash drinker, but after the samples served and the beers I got from the bar (Current Affair and Bourbon Black in particular) I'm going to have to change my habits. I was hooked.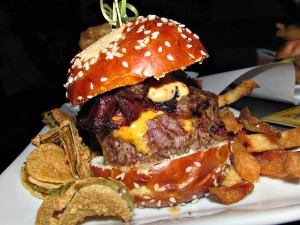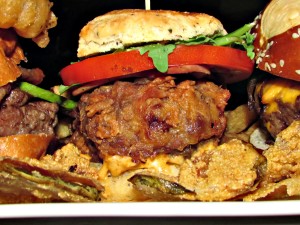 Burgers Ordered: The Pastrami Burger, the Spicy Burger, and the Good Ol' Boy
The Taste: The Pastrami Burger was a Schweid & Sons mini patty, topped with caramelized onions, beer mustard, American cheese, and thinly sliced pastrami on a pretzel roll. The combo of pastrami and pretzel is inspired, and worked really well here. Though at the time I merely thought this was good, it has aged in my memory and has become my favorite of the three.
The Spicy Burger had the same patty as the above, topped with Pepper Jack cheese, avocado, barbecue sauce, and bacon, on a brioche bun, alongside an onion ring. It was my favorite the night that I ate them, and in the days since I still enjoy the sense memory of the sweet and spicy barbecue sauce. Avocado is always a nice touch if it is chunked or sliced into small enough bits.
The Good Ol' Boy was a chicken fried patty topped with country ham, pimento cheese, tomato, and arugula on a black pepper biscuit. Frying a patty is inspired, and this had a real southern flavor to it. That said, the bun out-shined the patty. How could it not? A delicious biscuit more often than not takes precedence over all other things. I saw a few of these burgers being devoured with juice flowing out of them, which I think corresponded to so many people saying that this was their favorite of the night. Mine was a little overdone, and may have turned a stellar patty into a merely serviceable one.
The three beers were great, and I love sour beer, but I think the two intense sours might have been an odd pairing with hamburgers. The Golden Brett was nice and light and crisp and paired very well with the burger.
The Verdict: The Beer Burger Dinner was a blast, the bar was fun, and the burgers were pretty rad. My schedule is in serious need of an opening so I can devour one of Beer Authority's regular menu burgers.
Beer Authority is located at 300 West 40th Street in Manhattan, New York.