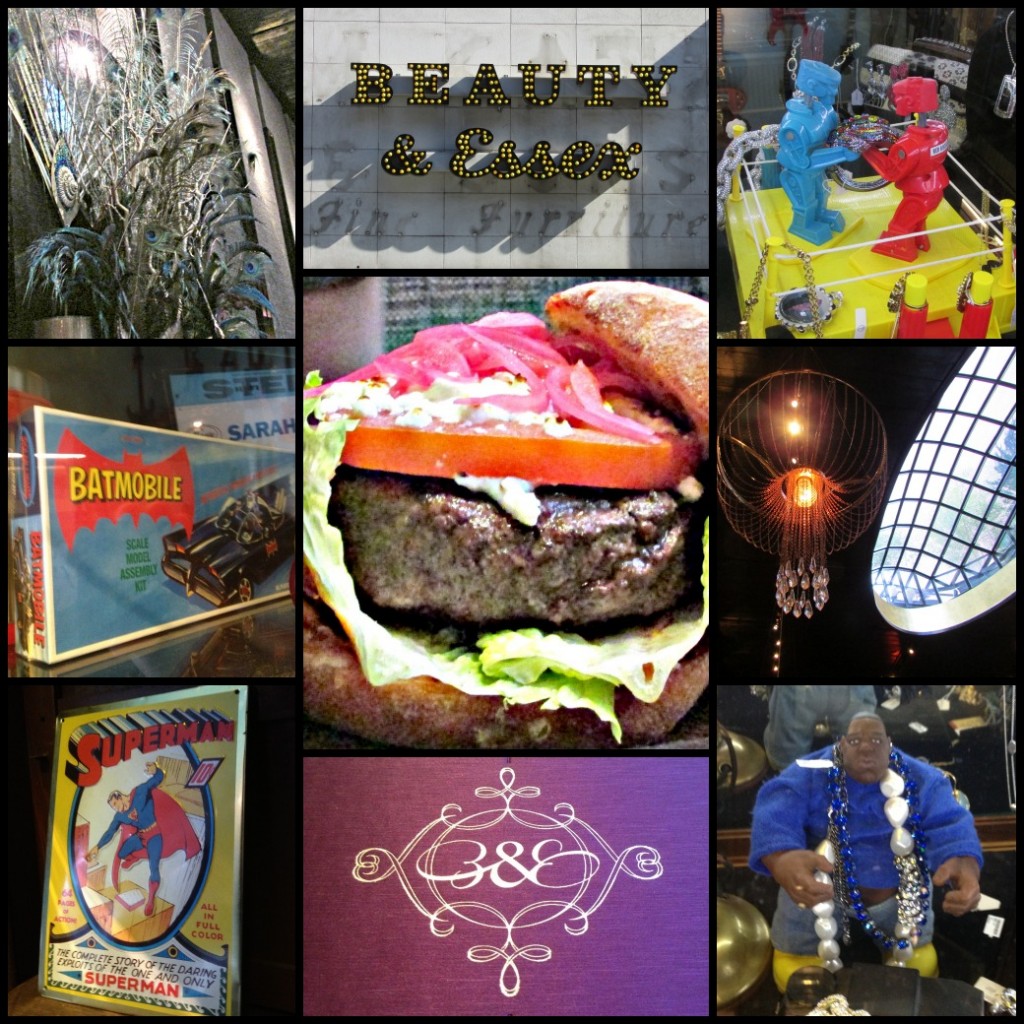 The Experience: Burger Weekly has existed nearly two years, and somehow the Burgermeisters have never eaten a hamburger on the Lower East Side. As such, this week and next are devoted to Lower East Side burgers. The first LES Burger Adventure could not have been more auspicious.
Beauty & Essex is a scene, to say the least. A self-styled speakeasy, the chandelier-filled restaurant lies just beyond a carefully rendered pawn shop. The impeccably-dressed staff make no mention of the comic books, action figures, and vintage toys buried under sparkly jewelry, but are very friendly in the face of the restaurant's intimidating style.
From the moment the Burgermeisters took their seats, the aroma of Beauty & Essex' brunch swirled around them. Everything on the menu and on the well-kempt diners' plates looked and smelled delicious. But hamburgers were the order of the day, so hamburgers is what the Burgermeisters got.
Burger Ordered: Beauty & Essex Burger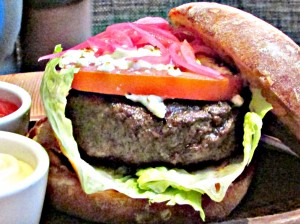 The Taste: Topped with spicy roasted garlic aioli, beefsteak tomato, onion, and goat feta, the Beauty & Essex Burger is centered around its hefty patty and surrounded by a heavenly bun. The beef came cooked exactly to order, medium rare. It was well-seasoned and released juice in abundance. The goat feta complimented the burger, and did not overwhelm the taste as some of the Burgermeisters had feared. Aioli of any kind is a true weakness for the Burgermeisters, and the garlic aioli on this burger did not disappoint.
But the true triumph for this burger was its bun. Buttered, toasted, and floured, the ciabatta bun was simply out of this world. For some of the Burgermeisters, all that was left on the plate at the end of their meal was grease and a bit of extra bun, which was a combo that all of the eaters were eager to enjoy.
Beauty & Essex' crispy BBQ fries were unique to say the least. Crunchy and tasty, the only negatives were that a little of the BBQ flavor went a long way, and dipping them in the ketchup and mayonaise provided proved to be an exercise in taste bud confusion.
The Verdict: The Lower East Side has a few personalities, and Beauty & Essex exemplifies the "cool kid" side of the neighborhood. Don't let that intimidate you though, because their burger is outstanding and their staff will help guide you through your meal with the friendliness of your local diner. And to reiterate, this is one of the best hamburger buns you will ever eat.
Beauty & Essex is located at 146 Essex Street between Stanton and Rivington Street in New York, New York.