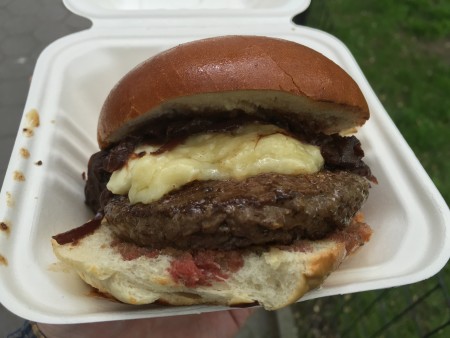 Mad. Sq. Eats has been open since the end of April, and in two days it shuts down until September. The centerpiece of the pop-up market, for burger lovers at least, is Beatrice Burger, a burgers-only outpost of Beatrice Inn. The Beatrice Inn is revered on Instagram for its 45-day dry aged burger. I have been hesitant to try this much-lauded burger because of my growing grudge against ludicrously expensive burgers. But Beatrice Burger reduced the size of the burger and dropped the price by half, to an almost palatable $19. I had to try it.
Burger Ordered: 45 Day Dry Aged Burger
The Taste: Everything you need to know about the beef can be gathered from the burger's name. Beyond that, it is topped with red wine caramelized onions and d'affinois cheese on a brioche bun. This burger, which has a cult-like following thanks to big supporters at Eater and on social media, packs a serious punch with every bite. The meat doesn't get lost, but it's the onions that stand out. These suckers are BOOZY. The cheese is a French double-cream soft cheese, and that texture is welcome here.
There are two other, even less expensive but reportedly very good burgers served at Beatrice Burger as well.
The Verdict: Nineteen dollars is undeniably steep for a burger with no sides at a pop-up market, but when you consider that it costs twice as much at the restaurant, you'll want to get to Beatrice Burger before Friday to taste it before only the costly option remains.
Mad. Sq. Eats is located just West of Madison Square Park in Manhattan, New York.
The Beatrice Inn is located at 285 West 12th Street in Manhattan, New York.
Sign up for Burger Weekly email updates!