Preferential Treatment Goes a Long Way |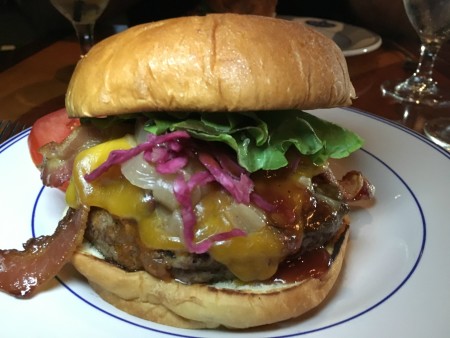 Every time that I write about a burger in or around Times Square, I make mention of how much I hate Times Square. Frankly, I find the whole notion pretty trite, so I'm officially retiring that complaint on this blog.
What I would like to talk about is the feat that is B.B. King's kitchen. They're serving up hundreds of people who come to shows at their joint, not to mention the dining room next door. It's pretty wild how many humans pass through this place. Before stopping in with my friends from Schweid & Sons to get a burger during lunch time, I'd only been to B.B. King because they used to host wrestling shows there. Now I was curious to know if the food was as good as those shows were fun.
Burger Ordered: Bacon Jerk Chili Cheeseburger
The Taste: I'm going to be honest with you, this burger isn't on the B.B. King menu. Maybe if you ask nicely, Chef Wenford Patrick Simpson's crew will make it for you. It was B.B. King's bacon cheeseburger topped with LTO, egg, and jerk chili on a King's Hawaiian roll. This thing was sweetness from top to bottom. The roll was soft, pillowy, and went a long way in absorbing the drippy toppings. The saccharine roll and chili were nicely offset by the savory, crunchy bacon.
The Verdict: This burger was a lot to handle, but without a side it was just enough food to fill me up at lunch without knocking me out for the rest of the day. This meal and a show would make for a great evening.
B.B. King is located at 237 West 42 Street in Manhattan, New York.
Sign up for Burger Weekly email updates!