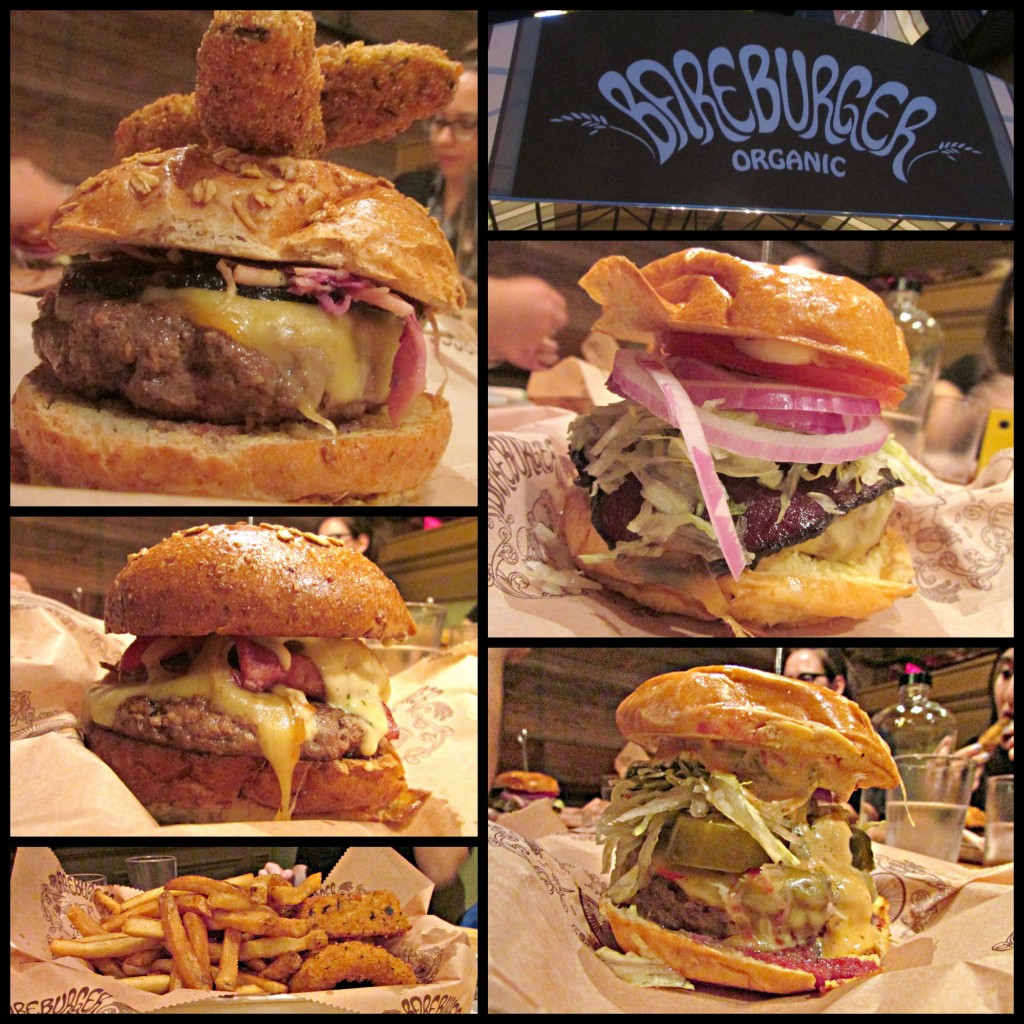 The Experience: True to their word, the Burgermeisters returned to Bareburger over a year after their first trip resulted in getting sliders instead of full-fledged burgers. As part of their perpetual expansion, Bareburger opened up a new spot in Hell's Kitchen. The Burgermeisters assembled their original Bareburger team and went to Hell's Kitchen expecting a mountainous, filling meal. That's exactly what they got.
Burgers Ordered: The Maui Wowie, the Habanero Express, the Country Bacon, and the Western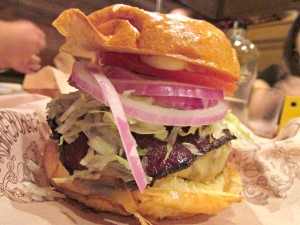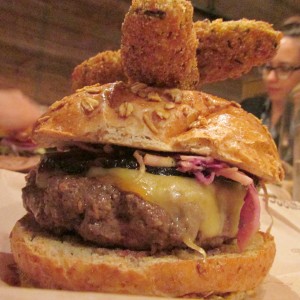 The Taste
: The Maui Wowie was a wild boar patty, topped with smoked mozzarella, turkey bacon, grilled pineapple, fire roasted peppers, fried onions, and buttermilk ranch. The wild boar meat tasted great, but the bites without any pineapple were a little dry.
The Western was a bison patty, topped with smoked mozzarella, country bacon, house-made Carolina slaw, smokehouse sauce, and crispy spicy pickle spears. The burger was done in perfect medium rare form. The bacon was thick and did not overpower the delicious bison. The slaw was a nice touch and there was just enough of the smokehouse sauce.
The Country Bacon was a beef patty, topped with sharp cheddar cheese, country bacon, iceberg lettuce, tomatoes, raw red onions, and mayo. It was a tad bit undercooked, but it not to a frightening degree. The bacon was solid, but the rest of the toppings were ice cold, taking away from the burger's rare-to-medium rare texture. It didn't take away from the taste, however and quality of the meat was apparent.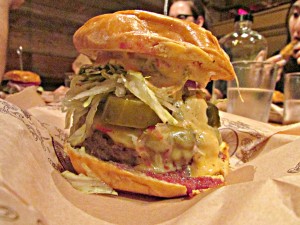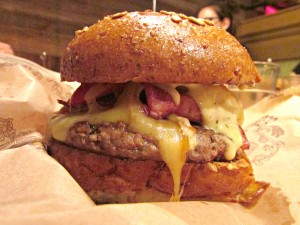 The Habanero Express was an elk patty topped with pepperjack cheese, iceberg lettuce, tomatoes, poblano pepper relish, raw red onions, spicy pickle chips, and habanero chipotle mayo. The lettuce on this burger cooled it down beyond an acceptable point as well. That said, the elk meat was some of the most delicious ever tasted in Burger Weekly history. It had the Burgermeisters wishing that all burgers could be made of this elk meat. It was simply exquisite.
The fries and onion rings were very tasty, as was the assortment of sauces that came with the fried side basket. The night ended on a very happy note, as the Burgermeisters mixed and matched flavors to make amazing and interesting milk shakes. These are a must-try.
The Verdict: Though some meats at Bareburger are better than others, you'll be at least generally pleased with all of them. Bareburger deserves its hype. Just make sure that you don't allow any shredded iceberg lettuce to cool down your burger.
Bareburger is located at 366 West 46th Street in Manhattan, New York, and twelve other locations in New York City and Long Island.