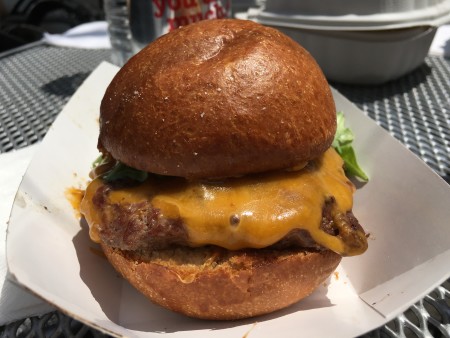 Bar Suzette is an interesting entity. Last week one could go to a Bar Suzette at many locations, all within market settings. With the closing the Mad Sq. Eats for the summer, that leaves one less option to go to bar Suzette. The Chelsea Market location focuses on crepes, while the Urbanspace outposts will sling you a patty to order.
Burger Ordered: The Bistro Burger
The Taste: The burger at Bar Suzette is a palatable enough meal. The highlight is the toasted, buttery, brioche bun. The rest of the burger is standard fare; a solid patty, complimentary cheese, and a nice piece of lettuce for a bonus bit of crunch. However, with Hard Times Sundaes just a couple stalls away, I think Bar Suzette might be on the losing side of an Urbanspace Vanderbilt hamburger contest. That said, Bar Suzette's fries are crunchy as you need and a delight to shove into your face.
The Verdict: Bar Suzette serves perfectly acceptable burger, which might not be enough to compete against the serious burger players today.
Bar Suzette is located at 230 Park at Urbanspace Vanderbilt in Manhattan, New York.
Sign up for Burger Weekly email updates!