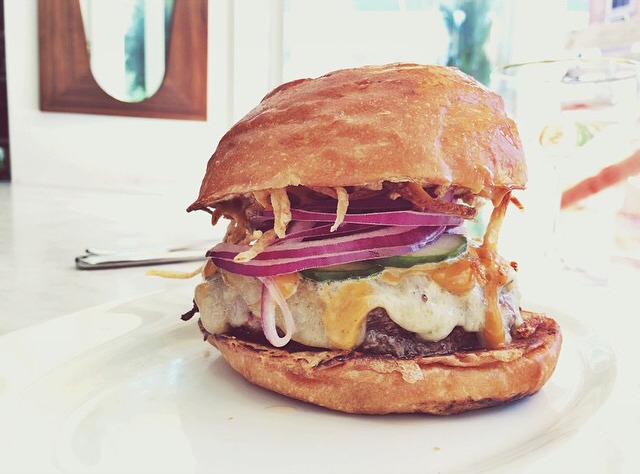 The Experience: The burger at Montmartre is divisive, because it's really a patty melt but also because some people just aren't fans. I love it, but for some reason when I was told over and over that the Fedora Burger at Bar Sardine (operated by Little Wisco/Happy Cooking Hospitality, which also runs Fedora, Joseph Leonard, Jeffrey's Grocery, Perla, and Montmartre) I was skeptical. Maybe it was because the press photos that I saw of the burger didn't conform to my vision of a great hamburger in that moment. Maybe it was because I sometimes get sore when I'm not the first to discover something delicious. I decided to try it anyway.
Burger Ordered: The Fedora Burger
The Taste: This burger hit me in the face like a Mack Truck. The char on the patty was some of the finest work I've ever tasted on a burger. The only thing keeping me from inhaling my meal in record time was my insistence on pausing to gush about how much I liked what I was eating. The flavors swirling together from the smoked cheddar and house-pickled cucs was wonderful, and the crispy potatoes gave the burger the most delightful crunch. The bun was moist and supple, a pleasure on the tongue. The more I think about this burger, the more I want to write poetry about it.
The fries were great and the mustard aioli that came with it was wonderful. There was also a Cuban sandwich special, so I ordered that too and ate half of it after my burger and the other half for lunch the next day. It was terrific and if it's ever on the menu when you're at Bar Sardine I highly recommend you order it.
The Verdict: I already said I want to write poetry about this burger. Go to Bar Sardine and order it now.
Bar Sardine is located at 183 West 10th Street in Manhattan, New York.