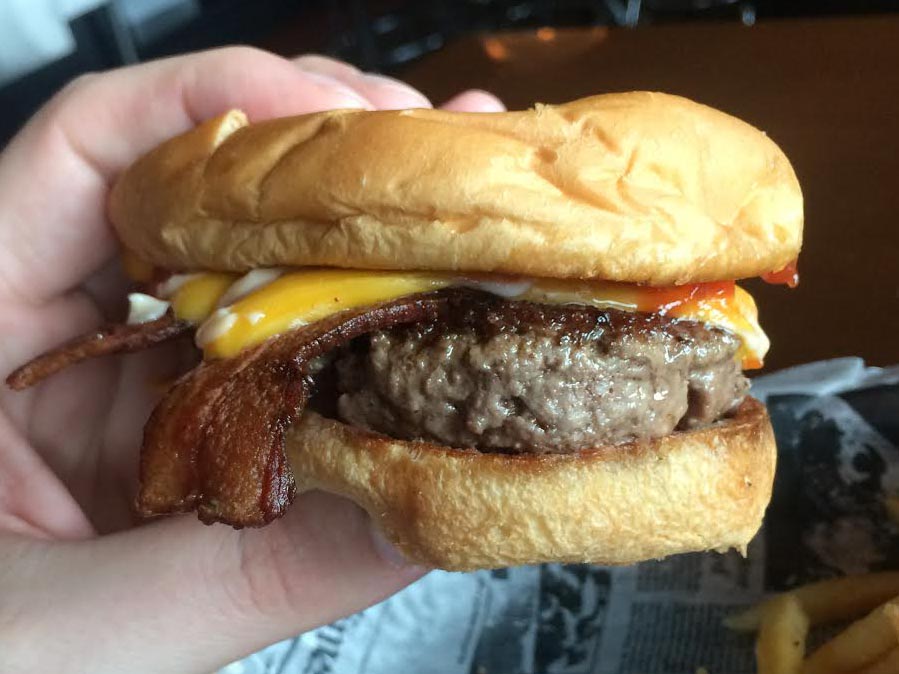 The Experience: Bar Harbor has a sign outside that looks like it was installed the day the place opened and hasn't been changed since. That actually works in its favor, as it right away gives the impression that Bar Harbor is a laid back, old school type of place, and I find that appealing. The interior was fairly simple, but it has to be mentioned that this place has the strangest bathroom I've ever seen. There were three regular toilets set up as if they were urinals. They were not. I can't stress how off-putting this is.
Burger Ordered: Bacon Cheeseburger
The Taste: Thankfully after the horror of using the restroom was over, I got down to the business of trying the Bacon Cheeseburger, and I'm happy to report that business is good. This is a really well-made burger. I ordered it medium rare, and it came out just right – there was some juice but it was soaked up perfectly by the bun so no mess was created and I was able to just focus on the nice flavor. The cheese and bacon were standard offerings but both did their job and contributed to a very pleasant Burger Adventure experience. French fries were of the shoestring variety, and they were a solid accompaniment. The proprietor was a friendly fellow, making some small talk about the upcoming baseball season while I waited for my food, but leaving me alone once I had the burger in front of me. That's all I ask.
The Verdict: Bar Harbor was a good place to visit on a lonely Tuesday afternoon in March, but I can imagine that due to the locale this place gets crazy during the summertime. This was a really good bar burger and one I would happily eat again.
Bar Harbor is located at 100 State Street in Harbor Springs, Michigan