Burgers Ordered: The Hamburger
The Experience: After reconnecting with former roommate Burgermeister Brad at the Burger Adventure at Whitmans, Burgermeister Penny was filled with renewed senses of burger impulse and appreciation. She brought those senses with her back to her native London, where he began to dine on the red meat of that nation.  Not fazed by the threat of Mad Cow, Penny went to one of her stalwart favorite pubs, Bacchus, to test their burger against those of the United States.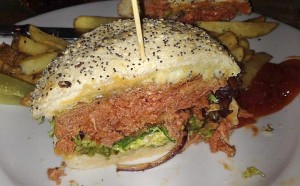 The Taste: Penny said that the bun was amazing and crunchy, with cheddar cheese melty and crispy on the underside of the lid. She said that the burger itself was "mega juicy" and that it melts onto the crispy bun. As you Little Meisters can see from the photo above, Bacchus knows how to cook a burger patty… which is to say, keep it on the grill for almost no time at all.
The Verdict: Burgermeister Penny was almost compulsive in her reporting of the burger at Bacchus, her favorite dinner spot, and considers it a must try for anyone in London.
Bacchus is located at 177 Hoxton Street in London, United Kingdom.