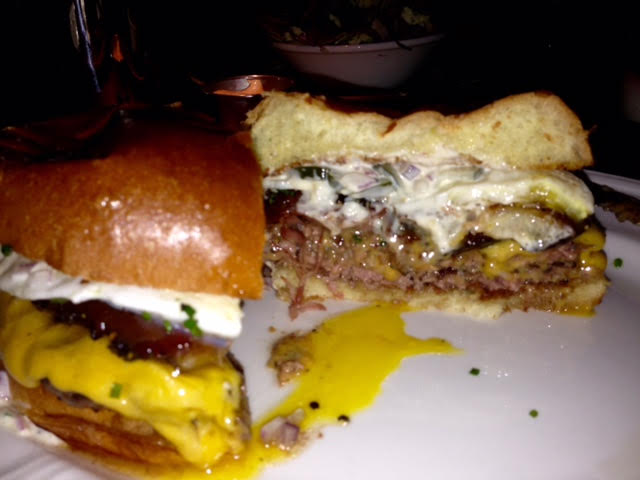 The Experience:  The West Loop is the most up and coming neighborhood in Chicago.  The restaurants and bars are second to none which makes a night out on Randolph Street a treat.  On this particular night, I took to Randolph to see why Au Cheval was recently rated the "Best Burger in America" by the Food Network and a number of others.  As you can imagine, there was a line out the door.  Lucky for me, I only had to wait an hour but the smell of the food was killing me.  I was able to nestle up to the bar so I could get a drink but the energy was high, the lights were dark and everyone was dressed to the nine's.  After about two drinks, I was ushered to my seat.
The Burger:  Double Cheeseburger
The Taste:  Alright, the burger was good but the "Best Burger in America", no way.  The brioche bun was the perfect bun for this type of burger.  It was able to maintain structure with the special sauce and juice from the sunny side up egg.  Next, the thick bacon, it provided a good salty flavoring but was chewy, almost undercooked.  Who doesn't like crispy bacon?  The patties, the patties, the patties, this is where the burger went downhill for me.  The patties for "Best Burger in America" come from Sysco, ya know, the massive food conglomerate.  There are plenty of great cattle farms in Illinois, Indiana, Missouri and Wisconsin, come on, the meat should be better.  The burger is clearly good or Au Cheval wouldn't have a wait every night and for most lunches.
The Verdict:  As I said earlier, the burger is good but is definitely not the "Best Burger in America."  In fact, I have reviewed burgers in Chicago that are better.  If you come to Chicago or live here, give it a try and see what you think.  Chicago is enamored with Au Cheval but to a burger purist, Au Cheval would not be my first burger recommendation to a tourist.
Au Cheval is located at 800 West Randolph Street in Chicago Illinois.
Follow @badguyburgers on Instagram for more Chicago burger knowledge.
Sign up for Burger Weekly email updates!