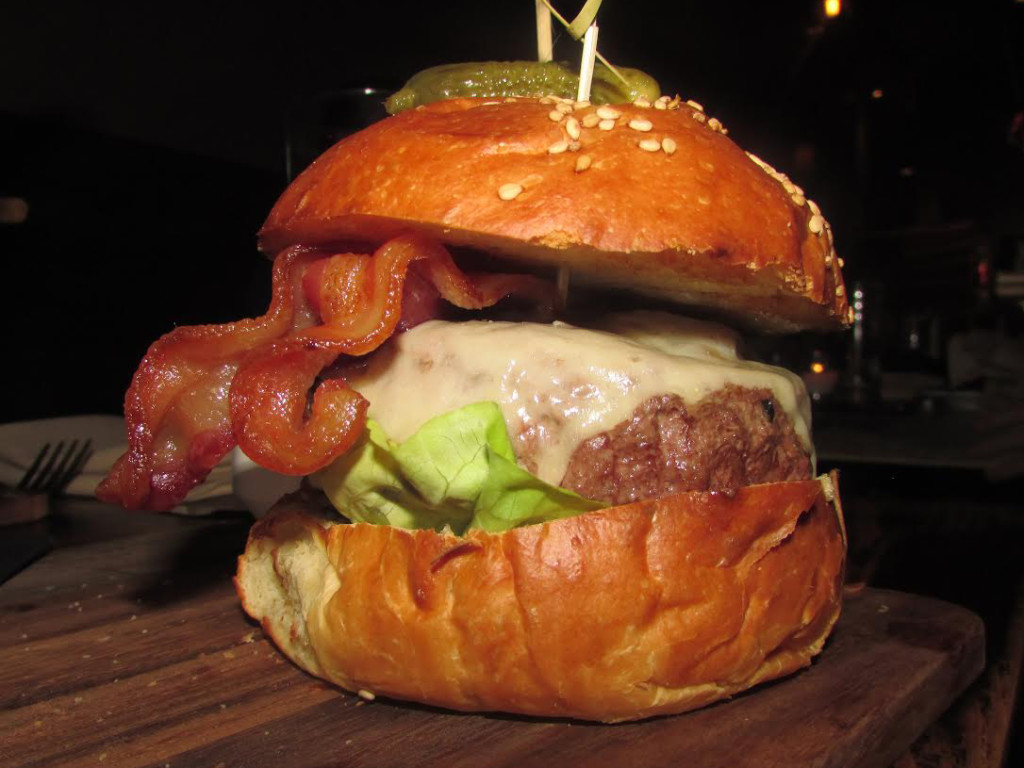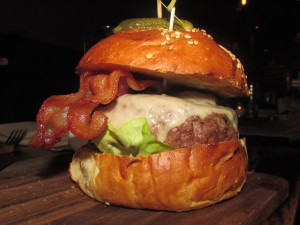 The Experience: National French Fry Day was Monday, but today I'm going to feature a burger from a place that has some of the best french fries in New York City. Atwood opened back in January, with a mission to change the face of dining and drinking in east midtown. And man oh man, could east midtown use a dining and drinking facelift. Though I didn't personally sample any cocktails while I was there, the cocktail menu is said to be great. The diverse list of excellent beers was what I set my eyes on, and I was pleased to see a great many unique choices. But as always, you're here to learn about the burger, made with tender love and care by Chef Brad Warner.
Burger Ordered: The Atwood Burger
The Taste: The beef comes from Strassburger Meats, and is a blend of mostly chuck, with a bit of short rib and brisket. Warner told me that he enjoys the flavor and the meatier texture of chuck, while the brisket and short rib give a little additional fat. Like a true burger purist, he seasons liberally with only fresh cracked black pepper and sea salt before giving it a sear on the grill and then finishing it off in the oven. It comes topped with applewood smoked bacon, Gruyere cheese, and house-made caramelized onion jam. The sesame brioche bun is from Hot Bread Kitchen.
This burger is a bonafide flavor bomb. The oven preparation makes for a remarkably juicy patty. The bun is stellar, which came as no surprise because Hot Bread Kitchen is dope. It comes through with each bite how much thought went into the composition of this burger. There was a bit of a disagreement between my dining companion and I over whether or not the bacon was even necessary, as I thought the cheese, patty, and bun did the trick all on their own. He, normally not a big fan of bacon on a burger, loved it here.
The burger comes with a side of our half inch thick, hand cut, thrice cooked fries. These fries are slow cooked in saltwater first, so that the salt permeates the potato rather than simply being dusted on top. Warner told me that, as much as people tell him that the Brussels sprouts are killer at Atwood, he is most proud of the french fries. They were the epitome of what I'm trying to get across when I say that #FriesEqualCrack. The secret house mayo was equally addicting.
The Verdict: While the burger and french fry competition in this neighborhood is not particularly fierce, Atwood should still be proud that it is standing tall as a top burger provider in east midtown.
Atwood is located at 986 Second Avenue in Manhattan, New York.
Sign up for Burger Weekly email updates!