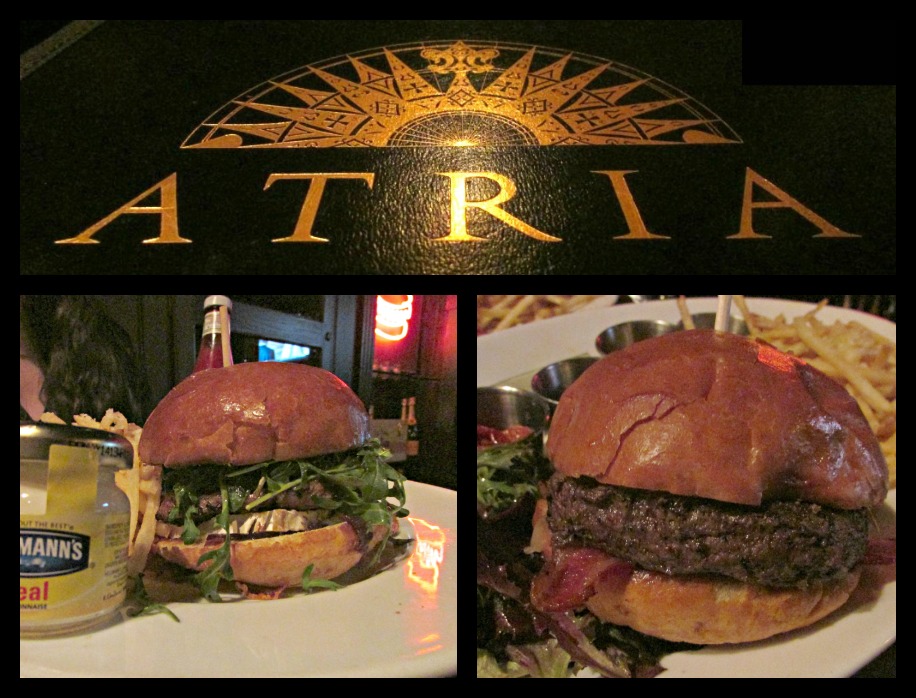 The Experience: When trapped on the island of Martha's Vineyard in a snowstorm, burger options may seem limited. However, three Martha's Vineyard restaurants are renowned by the locals for their burger offerings. The Burgermeisters intend to get to all three, but the first on the list was Atria because of their buy-one-get-one-free burger deal on Sundays. Atria is a sports bar tucked below a more upscale restaurant (tablecloths and everything!). At first look Atria, appears to be a casual, relaxed dining experience.
Unfortunately, the staff at Atria seemed to be having trouble on this evening, as it took the Burgermeisters almost twenty minutes to be given any attention at all after being seated. Once their orders were finally taken, the Burgermeisters were chomping at the bit for some hamburger placation.
Burgers Ordered: The Atria Classic and the Frenchy.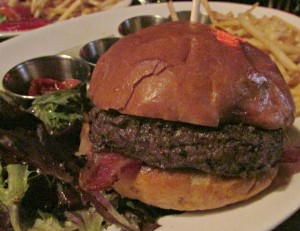 The Taste: The Atria Classic was served at medium temperature (though ordered medium rare), topped with cheddar cheese and applewood smoked bacon, and adorned will small cups of sautéed onions, roasted mushrooms, béarnaise, and tomatoes. Truffle fries and a green salad rounded out the plate. Though each ingredient was certainly tasty, the whole was not as great as the sum of its parts. Perhaps it was the overcooked patty, the uninspired bun, or the baditude that the Burgermeisters came under when the service became frustrating, but the burger did not satiate appetites as much as was hoped.
The Frenchie came medium rare as well, with St. Andre cheese, baby arugula, and cabernet roasted onions. It was joined by an adorable tiny bottle of mayonnaise. Though the Burgermeisters weren't familiar with St. Andre cheese, it turned out to have a bleu cheese flavor. And, while bleu can often be overpowering, this cheese was mild enough to stomach and complimented the burger well.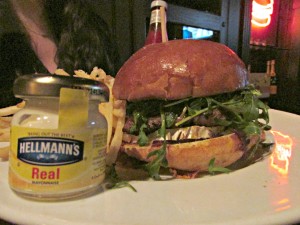 The truffle fries were outstanding, reminiscent of Kingswood's fries back in NYC. They were a much stronger highlight than the burger, as can often be the case with unique tasting french fries.
The Verdict: Though residents often call slow service "Vineyard time," there's really no excuse for a twenty-minute wait for service after a party has been seated. Though the burgers were acceptable, and the two-for-one price was certainly right, they weren't enough to warrant a special ferry ride to the island.
Atria is located at 137 Main Street in Edgartown, Massachusetts.