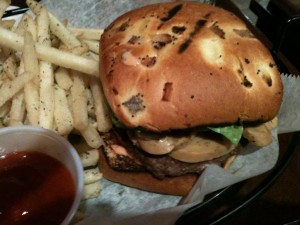 Another quick update from our main man with the plan to get the Burgermeisters to eat out of tan… town, Christopher. This time around Christopher went to New Hyde Park on Long Island and sampled the Wolverine Burger at Angelina's Fireshack & Pizzeria.
This was the second time Christopher had ordered a burger from Angelina's and he's been very happy with the outcome both times. The Wolverine was cooked perfectly medium rare. The onion roll bun (seemingly a rarity within the confines of New York City) was soft and tasty, holding up throughout the meal despite the assumption that an onion roll might have less structural integrity than other hamburger buns.
If in New Hyde Park, Angelina's has the Foreign Affairs Seal of Approval. This is how Angelina's describes the Wolverine: 100% natural Angus beef carefully piled high with sauteed mushrooms, caramelized onions, crispy applewood bacon, Gorgonzola cheese, and a touch of Shack sauce. Dangerously addictive! Served with Shack fries.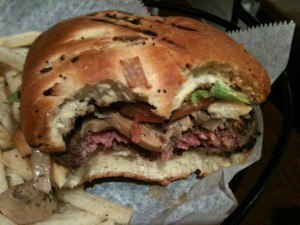 Angelina's Fireshake & Pizzeria is located at 1300 Jericho Turnpike between Millers Lane & Central Blvd.