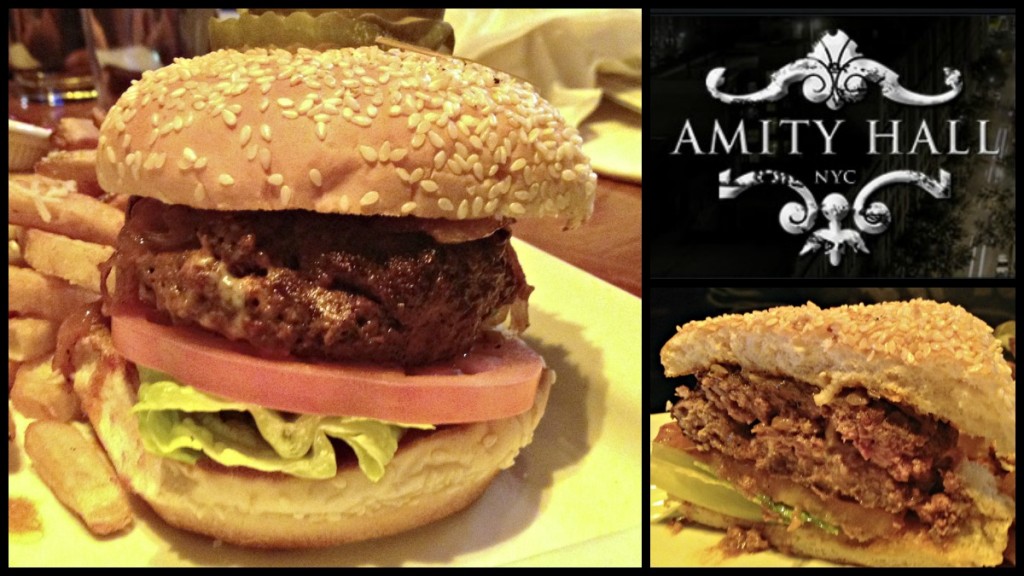 The Experience: Football, my birthday, and burgers. These are ingredients for a good day. And as Burgermeister Brad was in attendance at my birthday celebration, my foodie buddy Jen and I felt it was only appropriate to share a birthday burger. Amity Hall is a great place to get a group together to watch a game and have a few brews (or a Bloody Mary and string cheese). Their menu has six stuffed burgers on it, including a traditional Juicy Lucy. But we were more in the mood for something spicy, so we went with the Angry Burger.
Burger Ordered: The Angry Burger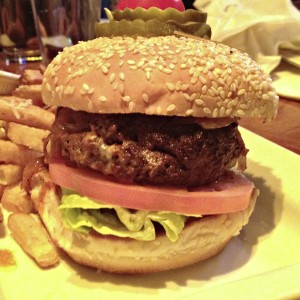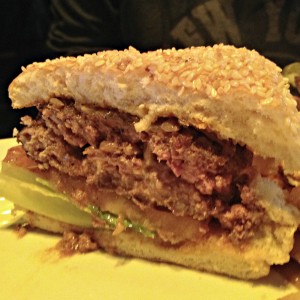 The Taste: The sesame seeded potato bun was pretty weak, so immediately there was room for improvement. Though the meat on stuffed burgers is generally a little overcooked, this patty was a little pink, well-seasoned, and definitely juicy. That was a plus. But even ignoring the bun, we wanted this Angry Burger to be more ANGRY. That is, we wanted a lot more heat. There weren't enough peppers or blue cheese stuffed inside, rather there were pockets of hot, cheesy flavor. It would be more appropriate if they called it the "A Little Pissed Burger." On the other hand, the fries were delicious!
The Verdict: The burger was definitely flavorful, but didn't bring enough heat. You're probably better off going for the Juicy Lucy.
Amity Hall is located at 80 West 3rd Street in Manhattan, New York.