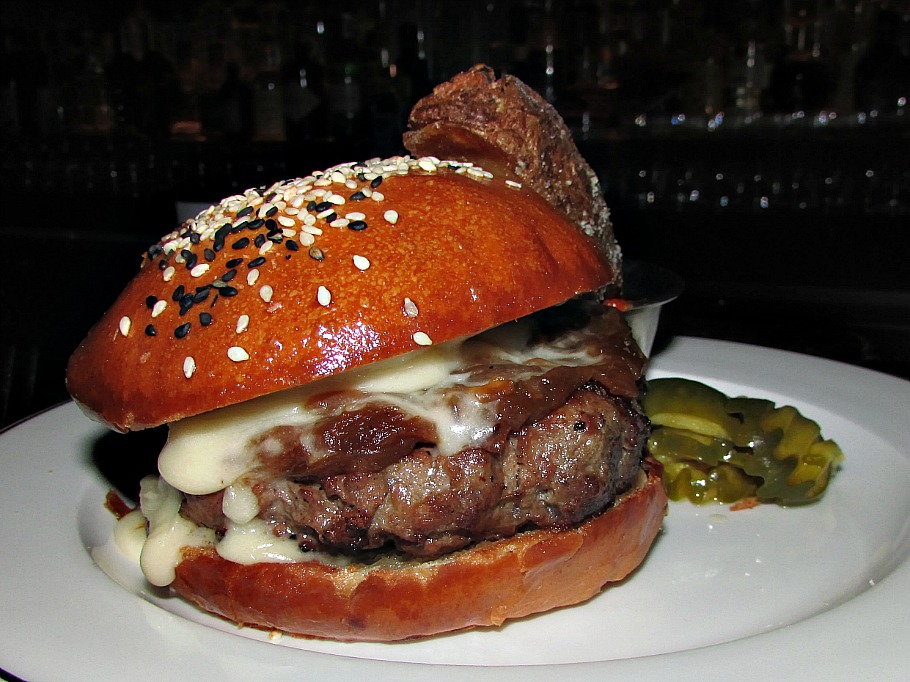 The Experience: Marc Forgione's hamburger experiment at American Cut in Tribeca is a truly interesting one. The burger is only served at the bar, and only a VERY limited number are served each day. American Cut announces how many will be available each day at 4:20 on their twitter account, and I've never seen the number rise any higher than 15. This isn't a wholly unique operation, as Alder also serves up a bar burger while supplies last. But I cannot stress enough that this burger exists on an entirely different plane than the one at Alder.
But first, a few notes about the bar experience at American Cut. The chili lobster roll and the pork rillettes are both economical and mind-expanding. I could have plowed through a lot more than the half a lobster roll that I had. And on the less economical but still notable side, the Plank Smoked Old Fashioned is worth ordering at least once because it is both excellent and a hell of a show.
Burger Ordered: The In House Burger
The Taste: Every single element that makes up this burger is crafted in-house. The patty is a blend of prime brisket, short rib and dry aged rib eye. It has an awesome funk that is wonderfully balanced by the bun, a house-made sesame seeded soft pretzel roll made by pastry chef Tara Glick. Pretzel rolls often overwhelm the patties inside them, but this patty's powerful flavor and the subtleness of the bun worked perfectly together. The patty is topped with caramelized onions cooked with bourbon (!), and a Brooklyn lager, fontina, and cheddar beer cheese. It's gooey without being messy, rare without being raw, and has an amazing steakhouse flavor without any of the pretense that sometimes comes along with burgers in this environment.
At the end of your meal you'll be treated to Glick's real-life-bear gummies, which are as fun to eat as they are to play with. And you could do a lot worse than following your burger with the killer Cracker Jack sundae with popcorn ice cream. Seriously, who dreams up this stuff?
The Verdict: As steakhouses all over New York City are trying their hands at hamburgers, Forgione's take at American Cut stands out by remembering to have some fun with it. I can't stress how important that is in crafting a burger.
American Cut is located at 363 Greenwich Street in Manhattan, New York.