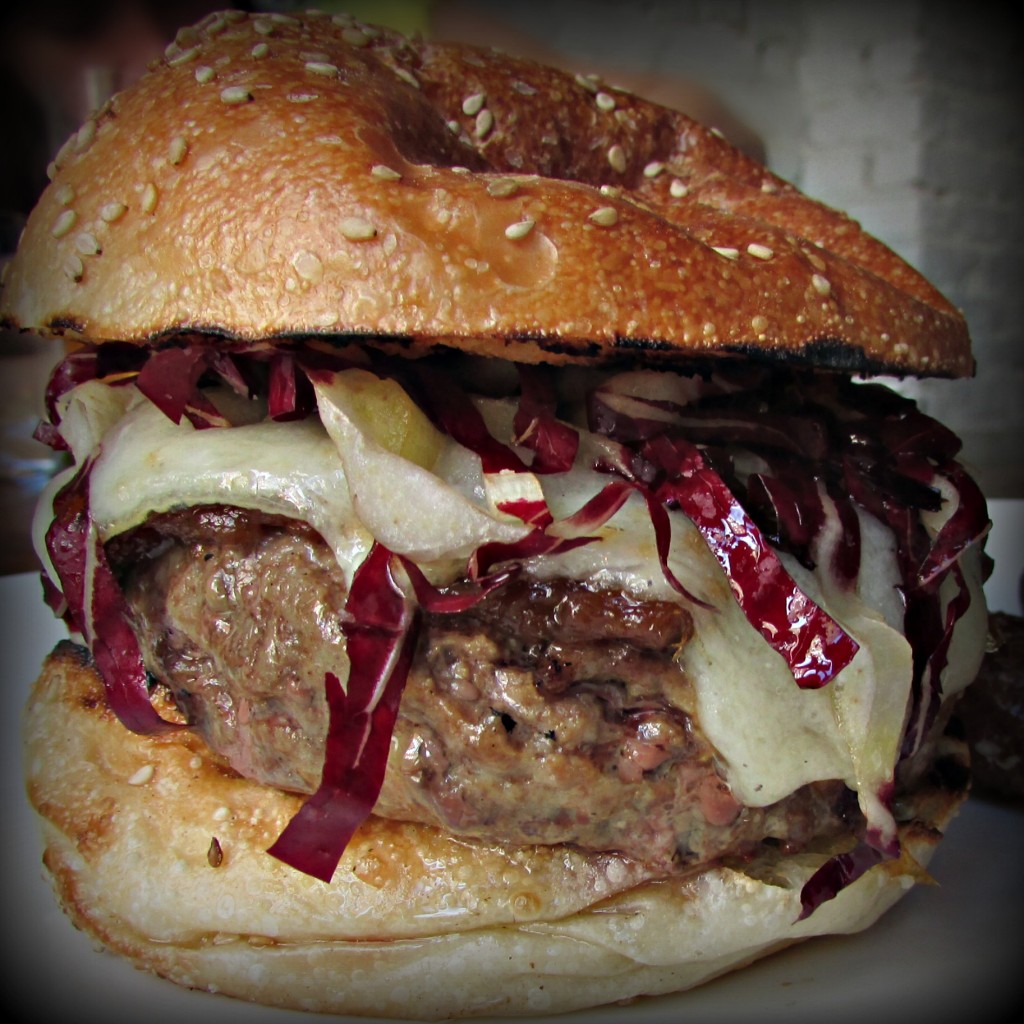 The Experience: All'onda opened up earlier this year and has served as a modern Venician playground for Chef Chris Jaeckle, a veteran of Tabla, Eleven Madison Park, Morimoto and Ai Fiori. When I heard that Jaeckle's All'onda had started serving a burger for lunch, my burger brain went crazy. The Ai Fiori burger blew my mind at the Blue Moon Burger Bash last year, and I was curious to see how Jaeckle would craft an Italian-style burger given his exposure to Michael White's White Label Burger.
The menu at All'onda is filled with items that have caught the attention of the food nerds of New York City. The uni bucatini has friends of mine chomping at the bit to get into this joint. I was worried that dish would be a little intense to pair with a burger, so I started with the hamachi crudo. It totally knocked my socks off and had me anxious to get to the burger.
Burger Ordered: Sottocenere Cheeseburger
The Taste: I love cheese, but I am woefully ignorant when it comes to less common cheeses. I won't pretend that I knew before eating this meal that sottocenere is a creamy cheese is made of pasteurized cow's milk from the northern Italian region of Veneto. It is aged in nutmeg, coriander, cinnamon, licorice, cloves, and fennel, and laced throughout with slivers of black truffle. Truffle and burgers can be a tricky combination, but when the truffle is kept subtle the pairing is excellent. The truffle in this cheese was perfect. The Pat LaFrieda short rib blend patty was also topped with shredded treviso and red miso caramelized onions. Along with the juice-soaking yet soundly-structured sesame seed bun, these toppings made the burger a pleasure in taste as well as texture.
The Verdict: It is worth taking a long lunch to get your hands on this burger during the work week. It isn't being served at brunch yet, but with enough demand perhaps Jaeckle and company could be convinced to add it to the weekend menu. #AllondaBurgerBrunch
All'onda is located at 22 East 13th Street in Manhattan, New York.