Nostalgia and Some of the Best Fries Ever |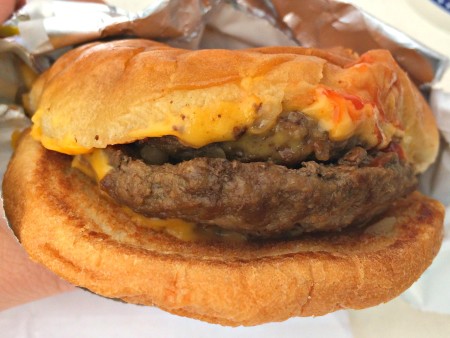 If you're from Massapequa or know anyone from around it, you've heard of All-American. It's a true Long Island institution and the only drive-in hamburger stand on the island. Opening for business in 1963, it has even been featured on the Travel Channel. This is an old school drive-in with no waiters and no tables inside, but there is an outdoor seating area. Step inside the small vestibule, then out to one of the windows and place your order. The food is made to order and done so quickly. Have your cash ready because they don't take plastic in this burger joint.
Burger Ordered: Double Double
The Taste: Nostalgia, old school charm and community loyalty are big factors in All-American's popularity. Do you remember how McDonald's used to taste when you were a kid, before they started dumping tons of salt, additives, and crap in their beef? That's what All-American will remind you of, not the high octane garbage Mickey Dee's is now. The burgers are made fresh and definitely hit that griddled sentimental taste of old. Their fries and onion rings are dynamite and they make a pretty mean thick shake as well.
The Verdict: Are you in the Massapequa area, do you want a quick burger that's made fresh to order and some of the best fries and rings in the county? Then get your ass to All-American and check out this neighborhood staple.
All-American Drive-In is located at  4286 Merrick Road in Massapequa, New York.
Sign up for Burger Weekly email updates!