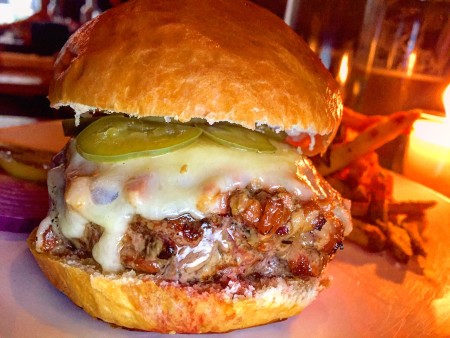 "Farm-fresh, grass-fed burgers," is usually a phrase that makes me think of dried-out, over-thought burgers. That's what I heard about the burger at Alice's Arbor, a place that plays up its local, fresh fare in a big way. But something about this Bed Stuy restaurant made me think there was hope for the burger. It might have been the other, creative sounding menu items. It might have been the toppings combination that topped the burger. Either way, I'm glad I got over my hangups and went.
Burger Ordered: The Jam Burger
The Taste: This burger is topped with bacon jam, jalapeños, pickled green tomato, red onions and your choice of cheese on a brioche bun. It also comes with cowboy fries topped, which are essentially Old Bay fries, which I think means they should be called fisherman fries not cowboy fries. But whatever, they're tasty. And the burger is "jammed" with flavor (sorry). My grass-fed bias was slapped down as the patty was deliciously succulent. The jalapeños added a nice, briny flavor but not too much of a spicy kick. The only slight I'd call out this burger for was that the bun was a bit too thick, making it slightly difficult to bite. But the burger tasted so good that I powered through, of course.
The Verdict: This was totally worth the trip out to Bed Stuy. Between the burger and the maple-drenched Brussels sprouts, it was a big win of a meal.
Alice's Arbor is located at 549 Classon Avenue in Brooklyn, New York.
Sign up for Burger Weekly email updates!