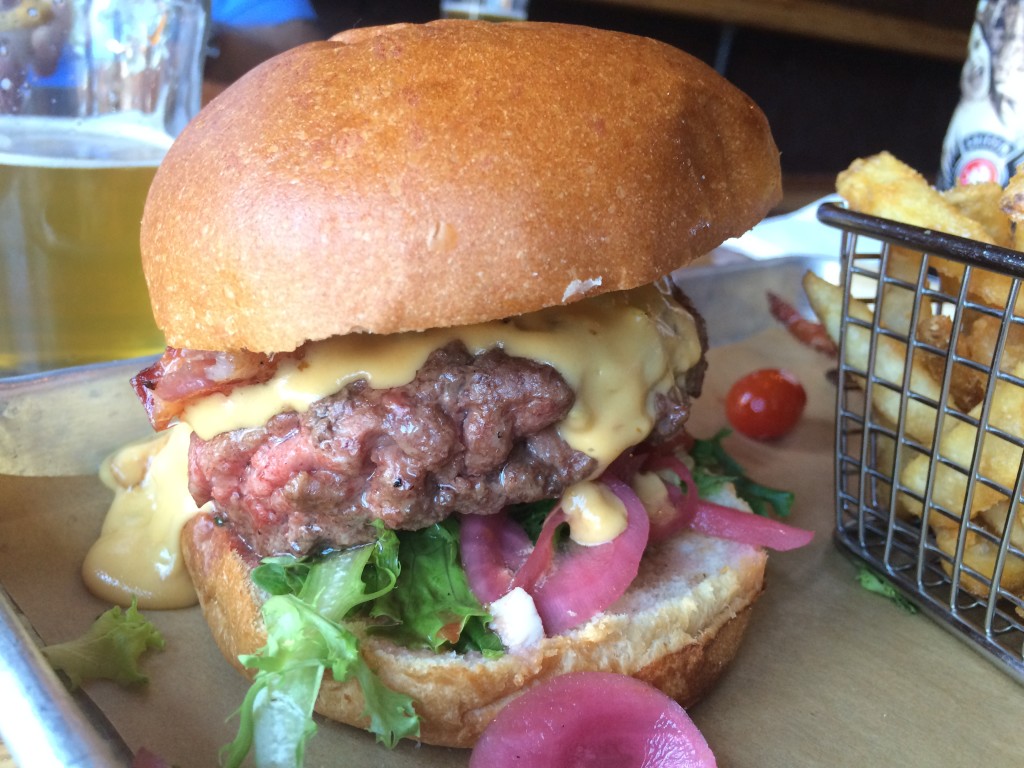 The Experience: As summer wound to a close, I visited my family in Detroit to soak up the last few warm days with them. One of the treats of visiting the Motor City for me is grabbing a burger with the ones I love. I enjoy seeing the different hamburger quirks that my family members exhibit, and I'm always fascinated by how they differ from my own. For example, my father doesn't like cheese on his burgers, a fact that I had forgotten until he and I sat down to eat at Ale Mary's. Being that Ale Mary's is known for its beer cheese as much as it's known for its burgers and beer, I worried that dear old dad wouldn't be in for the same delicious treat as I was.
Burger Ordered: The Beer Cheese Burger
The Taste: My dad's aversion to cheese turned out to be a blessing in disguise. So as to not rob my old man of the possibility of having a beer cheese burger experience, our waiter (who expertly deduced what kind of beer my notoriously-difficult-orderer father wanted) brought my dad's beer cheese in a cup on the side. The old timer still didn't want anything to do with the side of cheese, so I got to use it as a dipping sauce for my fries. And dip them I did. And love dipping them I did. And think about dipping them every day since I dipped them I have.
But this is a burger blog, not a French fry blog (should I start a french fry blog?). While the fries were a wonderful delivery system for the beer cheese, the burger stole the show and shuffled the cheese sauce to where it belongs, a topping and not the main event. Cooked medium rare (and yes, I can see that the photo above makes the burger look like it was rare as all hell… it wasn't), every cubic inch of beef swirled with flavor, accentuated by the tomato, onion, lettuce, bacon and cheese. Even my father's cheese-less burger had him ooh'ing and ahh'ing over his meal.
The Verdict: This was a burger like no other I have had in the Detroit area. The beer cheese helps it stand apart from the rest, and the marvelous beer selection helps put this joint over the top.
Ale Mary's Beer Hall is located at 316 South Main Street in Royal Oak, Michigan.
Sign up for Burger Weekly email updates!