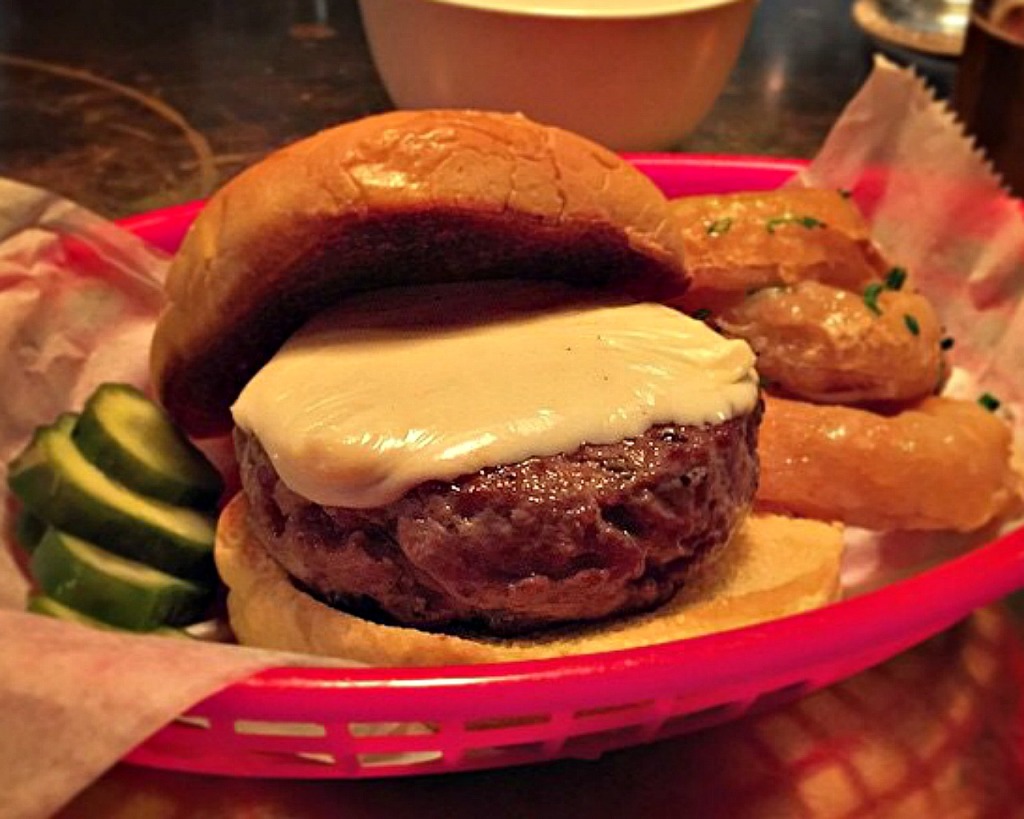 The Experience: Two weeks ago I was told by multiple sources that the new burger at the bar at Alder was delightful. Looking at my upcoming schedule, I was pleased to find in my calendar that I had an upcoming dinner outing set for Alder. However, I was later disappointed to learn that my Friday reservation meant that Alder's burger wouldn't be available.
You see, shortly after shuttering wd~50 due to the real estate aspirations of larger entities on the Lower East Side, Chef Wylie Dufresne added a burger to the menu of his remaining Manhattan outpost, Alder. It was made available at dinner only, at the bar only, Monday through Wednesday only (and all day Sunday). Was this a gambit to reinvigorate business at the often-empty Alder after the more popular wd~50 closed down? I have no idea and I don't actually care. What I care about is whether I changing the date for my Alder outing would result in a great Burger Adventure.
Burger Ordered: The Burger
The Taste: The first thing very hungry Burgermeisters will notice is that the chuck and brisket Pat LaFrieda blend patty is small. That said, it is the perfect size for its beef fat-coated and toasted Martin's potato roll bun. It is topped with house-made beer cheese and half sour pickles. The burger is $13, but for $21 it come with a Green Harbor Ale and three french onion soup rings. If you're drinking at all it's worth it to upgrade.
This little burger packs a lot of flavor. The creamy beer cheese is perfectly offset by the crunchy pickle and toasted bun. I made the mistake of eating my onion rings separately; they would have been perfect as a part of the burger itself. The patty is never lost, as the burger is at the same time simple and unique.
The Verdict:  The price-to-size ratio might scare some away. I for one ate this burger with two dining companions, and split a second one with one of them. But for a tasty burger, interesting onion rings, and a good beer, it's actually a solid Manhattan price.
Alder is located at 157 2nd Avenue in Manhattan, New York.