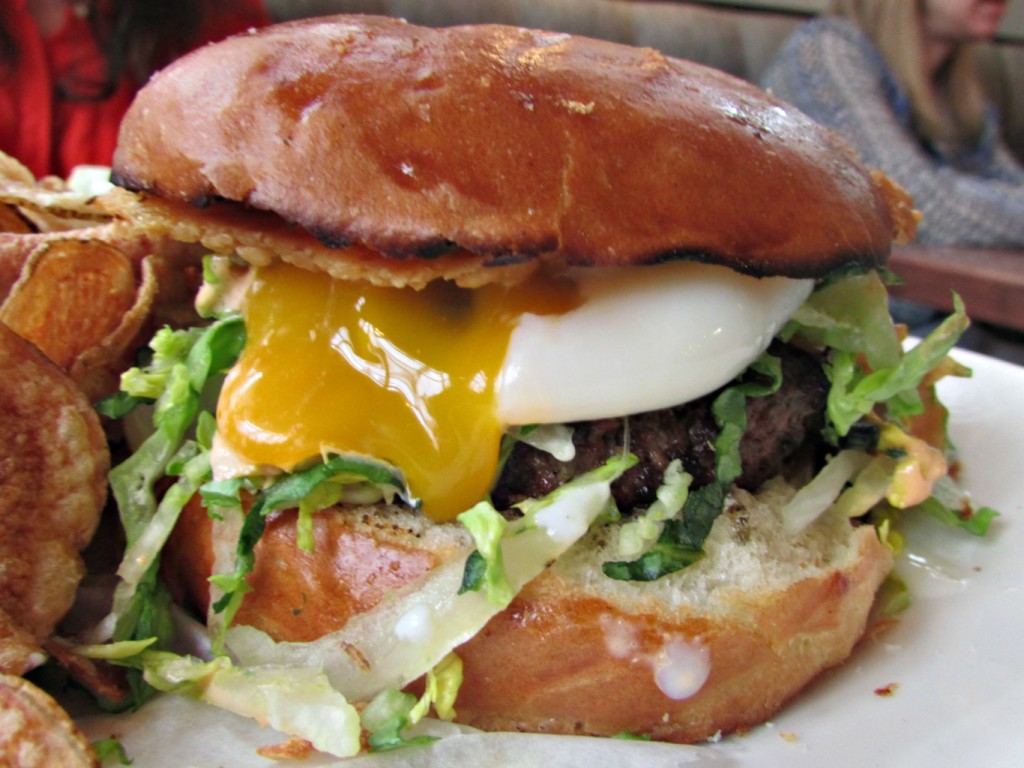 The Experience: I eat hamburgers every time that I travel. When I knew that I'd be spending a weekend in Boston, I did what I always to do prepare: I sought out the foremost expert in the area (which is why you should grab Burger City if you're looking for the best burgers in New York) and asked him which burger I had to have. In Boston, that person is Richard Chudy, the burger brain behind Boston Burger Blog. Right at the top of the list he sent me was Alden & Harlow, but that suggestion came with a warning. Richard said that they only serve 35 burgers each day, so I had better get there early and it would be wise for me to make a reservation. He also tipped me off to the fact that Alden & Harlow serves wacky off-menu burgers in addition to their on-menu Classic Secret Burger (apparently a secret because of the unspoken recipe).
I heeded his warning and caught an early brunch. The First Lady of Burger Weekly and I opted to share a Classic Secret Burger and forgo the cow tongue pastrami off-menu burger they were serving that day. Luckily for us, burgers remained by the time we arrived. We also got the kale toast and potato and sausage skillet. Both were divine, and the Bloody Mary was great too. But you're here to read about a burger.
Burger Ordered: The Classic Secret Burger
The Taste: The Classic Secret Burger is a grind of beef from Creekstone Farms, topped with an asiago crisp, and shredded lettuce drenched in sauce. We ordered our burger with a 60 degree egg. This was the first time I had ever eaten a burger with a poached egg, and the results were gooey and glorious. Sure, it was hard to to share. The runny egg and the saucy lettuce got everywhere. Still, I had a lot of fun eating this delicious burger. The meat was perfectly seasoned. The asiago added a fun crunch. The sweet, house-made bun was absolutely fantastic as well. Sharing the burger, the kale toast, and the skillet made for an awesome meal.
The Verdict: At noon on a Saturday, it was a breezy experience getting a burger at Alden & Harlow, and the flavors it left me with satisfied me for the rest of the day.
Alden & Harlow is located at 40 Brattle Street in Cambridge, Massachusetts.