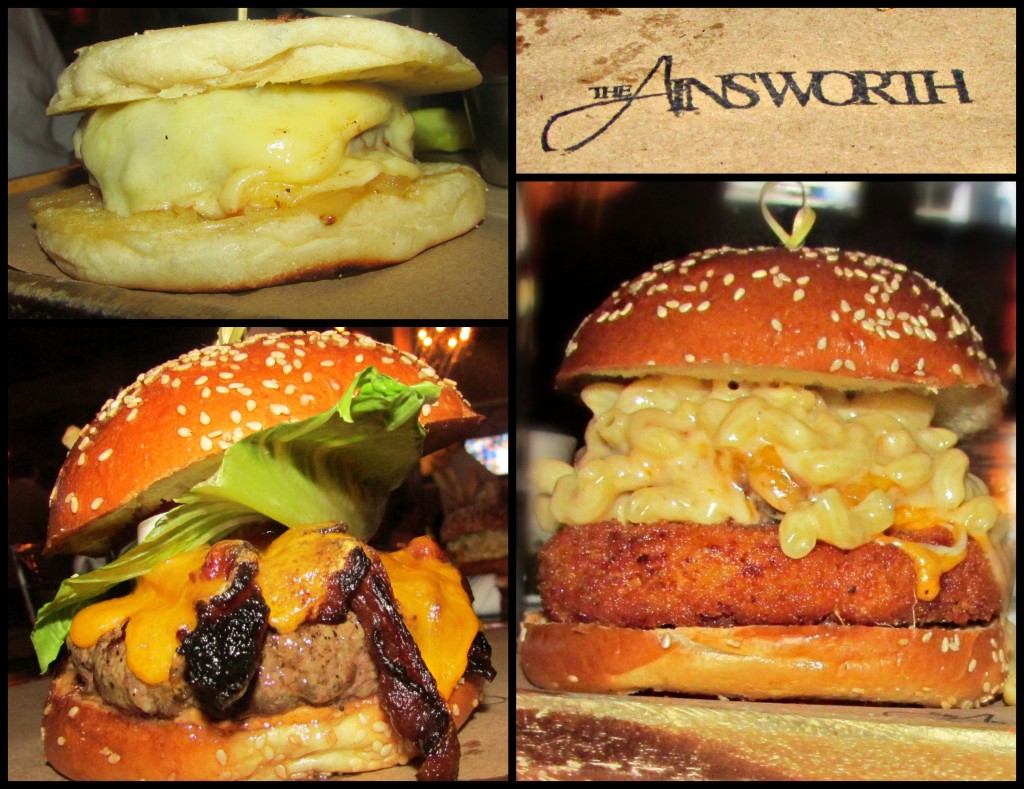 The Experience: The Ainsworth and Ainsworth Park got deeply into the spirit of National Burger Month by debuting a new menu that is heavy on the burgers. Between that and their #BurgersSteaksSpirits hashtag, I was very impressed with the Ainsworth's burger game. Impressed enough, that is, to give them a visit with a couple hungry Burgermeisters in tow and see if their burgers were as good as their Twitter boasting.
Burgers Ordered: The Classic Works Burger, French Onion  Burger, and the Mac & Cheese Burger.
The Taste: The Classic Works Burger was topped with American cheese, lettuce, onion, and bacon. Delicious, delicious bacon. I'm not sure why, but I was floored in surprise at how much I enjoyed the Classic Burger. Their signature blend patty was stellar, and the bacon was salty and delightful. The cheese draped sinfully over the patty brought me so much satisfaction that my night could have ended after just a few bites.
The French Onion Burger is served on an English Muffin (as a French Onion Burger should be served) and is topped with a generous helping of Gruyere cheese and caramelized onions. It also comes with a small side of french onion soup for dipping. That's a logical and genius touch that other joints serving French Onion Burgers should take note of. The cheese was sweet, yet somehow also savory. The patty was juicy and full of flavor. The only problem with this burger was that it was so good that it was devoured entirely too quickly.
The Mac & Cheese Burger was a thing of pure insanity. It featured a panko-crusted mac & cheese patty, topped with a beef patty, topped with more mac & cheese. The cheese made the patty hard to find, but once beef met tongue it was pure bliss. The bun was shockingly able to hold its own against the deluge of melted cheese, noodles and meat.
The Verdict: Forget the reviews talking about aggressive staff or a bad time watching sports. I am and have always been primarily concerned with burgers, and the Ainsworth is killing it in that department. These burgers and delicious, sizable, and well worth your time and money.
The Ainsworth is located at 122 West 26th Street in Manhattan, New York.