The Experience: Every year the New York Wine and Food Festival brings New York City the Blue Moon Burger Bash, hosted by Rachael Ray. The sold out, walk-around event allowed ticket-holders to sample burgers from over twenty restaurants and chefs. The price of a ticket for this event is STEEP, but given that with the price comes the opportunity to eat and drink so much food, and that the proceeds benefit Food Bank for New York City and Share our Strength's No Kid Hungry campaign, it's not hard to reconcile the cost.
Twice a week over the next four weeks I'm going to run down the eight burgers I ate at the event. I gave myself a few ground rules when making the difficult choice among the burgers to try. First, I would not sample burgers from places I'd previously visited, no matter how much I wanted to. Not having the burgers from Go Burger, Schnippers, and Burger & Barrel was very difficult for me. Second, I would try to eat burgers at New York restaurants that normally serve burgers. I played fast and loose with this rule. Third, I would not eat to the point that I'd become sick. This was the hardest one to stick to. Abiding by those rules I arrived at the Ai Fiori booth, which served me what ended up being the best burger of the evening.
Burger Ordered: White Label Burger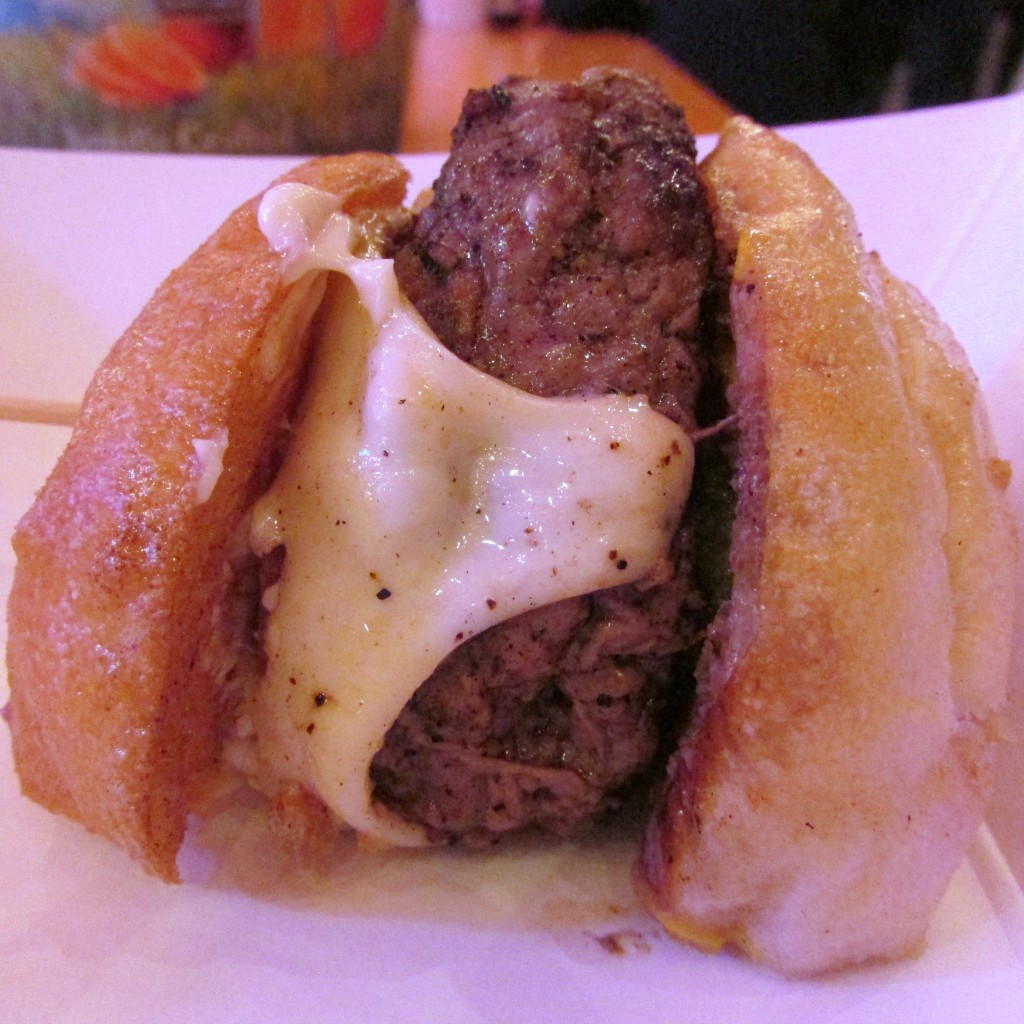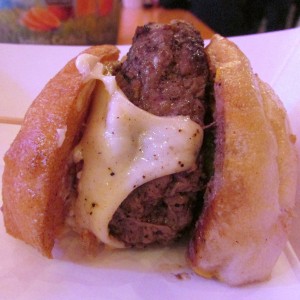 The Taste: Last year, Ai Fiori's burger won the critic's pick award. It was the recipient of my vote in the Peoples' Choice Award this year, and I think deserved every accolade it received in 2012 and was robbed in 2013. The quartered burger was messy, but so full of flavor that I didn't care at all. The bacon gave the burger an amazing crunch, something that everyone at the festival was trying to achieve. I seriously cannot say enough good things about the elements of this burger. It took my breath away and set the bar very high for all of the other burgers at the Bash.
The Verdict: Even though the advertised tater tots were not in my sample basket, I awarded my Burger-of-the-Bash chip to Ai Fiori. It was the belle of the ball, and I wish it had won top honors overall. You should get to Ai Fiori and sample their White Label Burger as soon as possible.
Ai Fiori is located at 400 5th Avenue in Manhattan, New York.