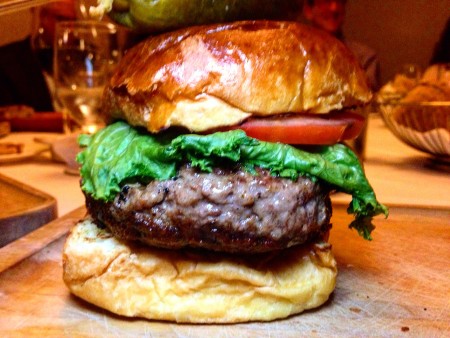 It's been quite a while since I've reviewed a kosher burger on Burger Weekly, so when I ended up at a work dinner at a kosher restaurant and realized I didn't have a burger review to post this week, the stars seemed to be in alignment. Abigael's is just south of Times Square. The building it's in is currently undergoing construction, so when you walk in it will feel like you're walking into an office building. You'll go down an elevator and in the basement is where you'll find the Abigail's dining room. When I went, it was sparsely populated, with about five tables filled in the large dining area. My party was escorted to a private room in the back, wherein we frequently heard the subway train running nearby. Burger Ordered: Abigael's Steak Burger
The Taste: Awkward ambiance aside, the staff at Abigael's certainly meant well. I was worried that when six of the eleven people ordered the burger that there would be serious mistakes or overcooked burgers served. That was not the case, as most of us ordered our meals medium rare, and we got plenty of pink inside our patties. The most striking thing that I noticed was that my five fellow burger eaters were all using a fork and knife to tackle their burgers. It quickly became clear why; the 16 ounce patty and massive challah bun were far too big and dense to squeeze into a reasonably sized bite.
The short rib, rib eye, and brisket blent was topped with tomato, caramelized onion (not fried as the menu suggested), lettuce and house-made steak sauce. There was not enough steak sauce for it to really stand out, but when I tried some of it on its own I wasn't particularly disappointed as it was nothing special. On the tongue, it was clear that the patty was made of quality beef, but there was just so much of it that I got intense palate fatigue. I will say though, that the french fries were quite delicious.
The Verdict: Some might balk at the $28 price tag on this burger, but given its size and the fact that it is served at a kosher restaurant, I'd say the price is unsurprising. It's not worth getting your own, but sharing with your kosher-food-only friend alongside another dish might be a reasonable experience.
Abigael's is located at 1407 Broadway in Manhattan, New York.
Sign up for Burger Weekly email updates!