The Experience: Driving up New York State Route 28, visitors of the Catskill Mountains will see scores of businesses catering to their usual customers. Most of the highway could be described as almost desolate. One anomaly in the town of Phoenicia is the Phoenicia Diner. The parking lot of this otherwise unassuming eatery was absolutely packed when the Burgermeisters passed it on the road. A packed house is the best recommendation a restaurant can have, so the Burgermeisters decided to make sure that this wasn't just a case of being the only game in town.
Burger Ordered: Grass-fed bacon cheeseburger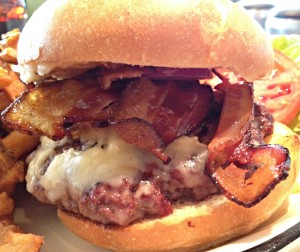 The Taste: Hidden in the Catskills, it should be noted, are a number of tasty fooderies, and Phoenicia is part of that good company. The burger was ordered medium rare, and that was taken very seriously. In fact, fans of medium rare meat might want to order their burger cooked medium, because the patties don't stay on Phoenicia Diner's grills for long. The patty was tasty. The bacon was salty, and the cheddar cheese distinct and unique. Beyond that, the french fries were spectacular, and gave the Burgermeisters the strength they needed to finish their drive.
The Verdict: This diner has been serving customers for over fifty years. The lack of competition probably helps, but good food is what makes it difficult to find a parking space at this roadside attraction.
Phoenicia Diner is located at 5681 Route 28 in Phoenicia, New York.