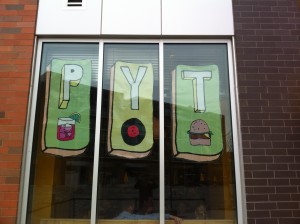 Haters are Forbidden; Fun is Mandatory
Burgers Ordered: Matt – The Cheese Steak Pretzel Roll Burger Wiz Wit; Brad B – Baby Krispy Kreme Burgers.
The Experience: Burgermeister Matt has never been satisfied having only one friend named Brad.  In fact, you might call him a collector.  One such Brad is a good friend of Matt's from college.  He owed Brad-from-college a visit in Philly, so he bid Burgermeister Brad goodbye and hopped on a Greyhound to the City of Brotherly Love.
Brad-from-college was well aware of Burger Weekly, and had a Burger Adventure in mind long before Matt made his way to the Cradle of Liberty.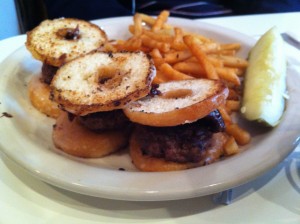 Dinner and dessert in one.
The Taste: Brad found his Baby Krispy Kreme Burgers to be an interesting if somewhat startling combination of savory and sweet. He was really impressed with the creativity of the meal.  His fries were satisfying but nothing he thought he'd remember later on.
On the other hand, Matt gushed over his burger.  He said it was probably the best burger he ever had.  When he told Burgermeister Brad how much he loved the burger, he expressed some disappointment that he ate it in Philadelphia and not in New York City.  He loved the fact that it was two of his favorite foods in one (cheese steak and hamburger) and that the cheese wiz oozed over the whole meal. The pretzel bun (from the Philadelphia Pretzel Company) combined with the cheese wiz was a fantastic duo.
Matt's favorite burger ever, inside and out.
Matt also ordered a Butterfinger adult milkshake.  It contained vanilla ice cream, caramel vodka, peanut butter, and Butterfingers.  Combined with the beers they'd been drinking, it was the perfect capper for a delicious meal.  Brad got the Thin Mint adult shake, which Brad enjoyed a lot.  It was the shake of the day, so you'll only get it at PYT if you're lucky.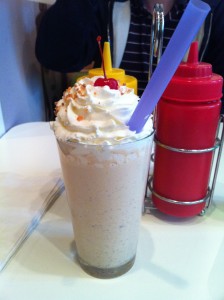 The Verdict: Put simply, this was the best hamburger that Matt has ever had.  It wasn't a traditional burger, but when you eat as many burgers as Matt does it's not surprising that his favorite had to be something quite unique.  Philadelphians should feel pride in PYT.
PYT is located at Piazza at Schmidts at 1050 North Hancock Street in Philadelphia, Pennsylvania.