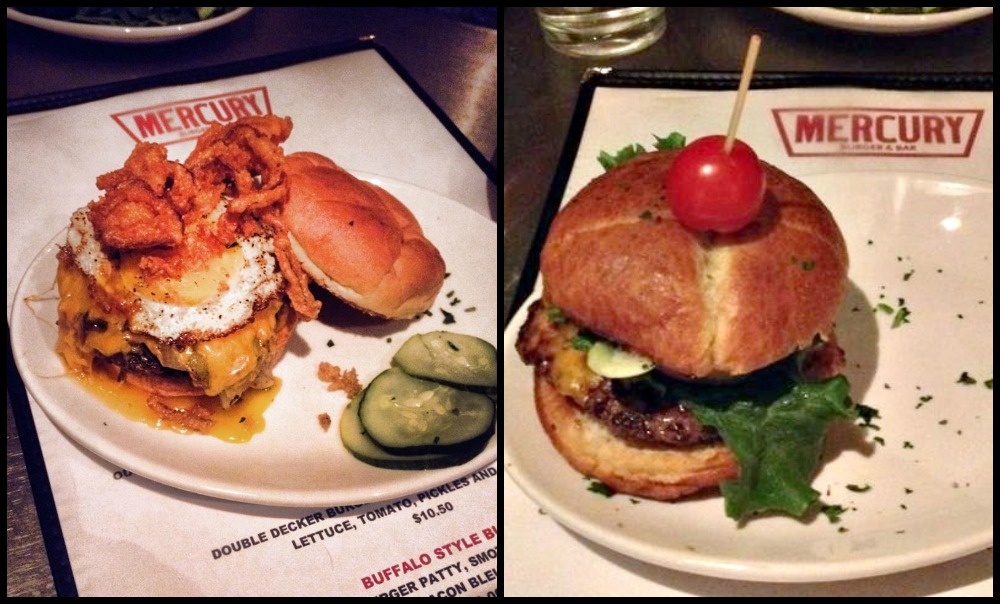 The Experience: There has been no sophomore slump at Mercury, Detroit's burger joint and bar that has Corktown residents flocking for beef and brews. Lately, they've gotten a lot of attention for their grilled cheese sandwiches, but I've been tasked with finding out if the burgers at this hot spot live up to the hype. The wonderful servers asked what I was looking for in a burger and directed me to the Topor Burger. I'm all about Topor's pickles, so that sounded like a no-brainer.
Burger Ordered: The Topor Burger
The Taste: The burger is topped with Corktown's own Topor's Hungarian hot peppers, grilled onions, cheddar, fried egg, hot sauce, burger sauce, and crispy onion straws. This was the first time I had a burger with a fried egg, and I loved it. I should have listened to Brother Brad years ago and eaten my burgers this way from the beginning. The sauces were delicious and were a wonderful taste-partners for the burger itself.   The onion straws gave it a nice crunch while the hot peppers added a little kick.
The Verdict: If you're in Detroit and have a hankering for burgers and/or spicy food, I recommend this meal from Mercury Bar. The service is amazing, the recommendations are great, and the food is top notch.
Mercury Burger & Bar is located at 2163 Michigan Avenue in Detroit, Michigan.