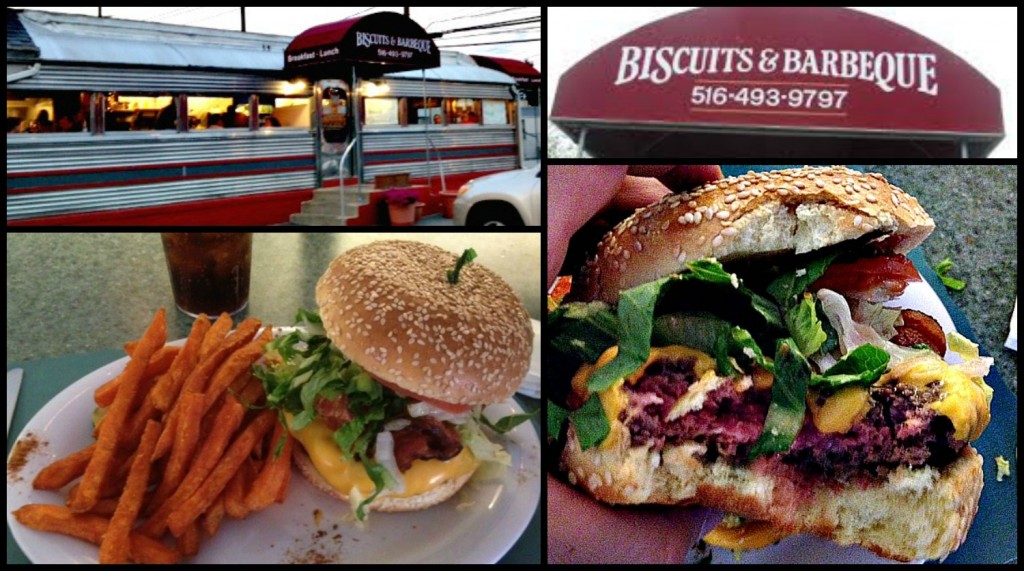 The Experience: Biscuits & Barbeque occupies an old school railway diner car with booths and a lunch counter. It is even more old school in its adherence to the cash only ways of days gone by. I have stuffed my face many a time at their fine establishment, enjoying their wonderful short ribs, fried chicken & waffles, and delectable peach cobbler. Now the time had finally come to experience their half pound burger.
Burger Ordered: Half Pound Burger with Cheese & Bacon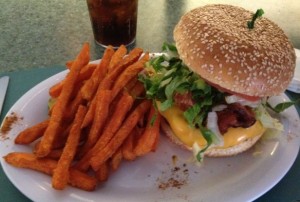 The Taste: The burger was cooked to my specified medium rare request and piled high with lettuce, tomato, raw onions, and my requested cheese and bacon onto a sesame seed bun. The bacon was crisp and flavorful, and the patty was juicy and delicious. The amount of rabbit food piled onto the burger made it a bit unwieldy, and I found myself wishing that I had removed it. All in all the burger was very tasty and I scarfed it down with abandon. I chose to accompany my burger with sweet potato fries. They were absolutely delicious.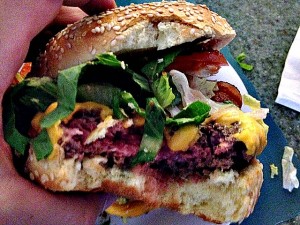 The Verdict: The food and atmosphere, and staff at Biscuits & Barbecue are fantastic. I highly recommend fans of burgers and southern comfort food check it out. It can get really crowded on the weekends, and they don't take reservations or credit cards. So be forewarned on that front.
Biscuits & Barbecue is located at 106 East 2nd Street in Mineola, New York.