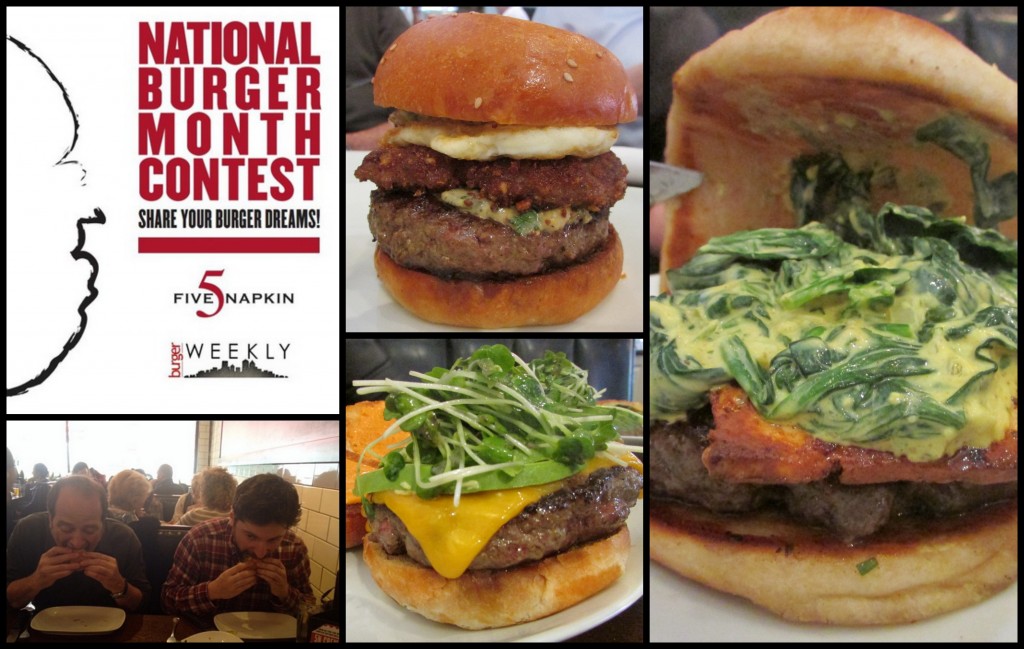 It was my utmost pleasure to team up with 5 Napkin Burger last month to promote the #5NDreamBurger Challenge. In said challenge, 5 Napkin Burger offered up the opportunity for their Facebook, Twitter, and Instagram followers to describe their ultimate dream burgers in an effort to have that burger become the burger of the month for May. Scores of entries came in, some of which sounded absurdly delicious (a burger topped with sushi-grade salmon, avocado, and wasabi mayo), some that just sounded absurd (a burger based on the Jody Foster film Contact). In the end there were three finalists, but only one could be the winner. I got to judge the final contest alongside Chef Andy D'Amico, which was a huge honor and a ton of fun.
The Scotch Egg Burger: True to the snack upon which it was based, his burger saw the patty topped with dijon mustard, a lightly breaded sausage patty, cornichons, and a fried egg. Eating this burger first set the ton for the contest. After eating only half of it I knew that the full meal would have left me feeling totally satisfied, if not totally stuffed. The sausage patty, mustard, and egg worked perfectly together. The cornichons added that crunch that I love so much.
The Naan Burger: This might be blasphemous to some, but I felt that this burger was as delicious and gustatorially authentic as a full-blown Indian dinner. The beef patty was seasoned with garam masala, and topped with grilled paneer cheese and curried spinach. It was wrapped in naan bread that was so wonderfully toasted and lightly buttered that I gasped a little when I took my first bite of it. 
The Spicy Sprout Burger: Topped with sprouts, cheddar cheese, avocado, and spicy mayo, this burger was at a huge disadvantage by being served after the intensely flavored Naan Burger. Still, I consider myself and objective judge and there was a lot to be enjoyed here. More than the other two burgers, the beef was really able to shine here. The spicy mayo had a nice kick, and I'm a sucker for a nice kick of mayo. The sprouts added the aformentioned desired crunch, though the avocado seemed a bit superfluous here.
After much deliberation (I was actually surprised at how much we deliberated) the winning honors went to the Naan Burger. You can get the Naan Burger at all 5 Napkin Burger locations throughout May, and I absolutely insist that you do. Let me know what you think after you've tried it!