Burgers Ordered: Barbecue Burger, 5 Napkin Veggie Burger & Ahi Tuna Burger.
The Experience: Being competitive can be a great quality in a person. It can drive one to succeed, or help one to overcome seemingly insurmountable odds. It can also cause one to go double or nothing on a sure-thing bowling bet and end up being forced to eat a veggie burger on his red meat-only burger blog. Such was Burgermeister Brad's fate. After consulting his vegetarian friends, the consensus was that the least painful place to eat a veggie burger is 5 Napkin Burger. So that's where this week's Burger Adventure took place. The veggie burger's reputation did not calm Brad's nerves at all…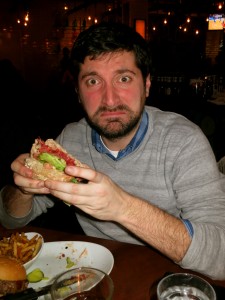 The Taste: The Burgermeisters are nothing if not honest, and Burgermeister Brad had to admit that the veggie burger tasted good enough that if he wasn't allowed to eat any red meat during the meal, he would have at least not left hungry or disgusted. In fact, he said that if he closed his eyes and pretended hard enough he could imagine that it was a unique tasting, if not-very-juicy hamburger. The only thing that gave away that this burger was healthy was the grain bun, which also was not terrible.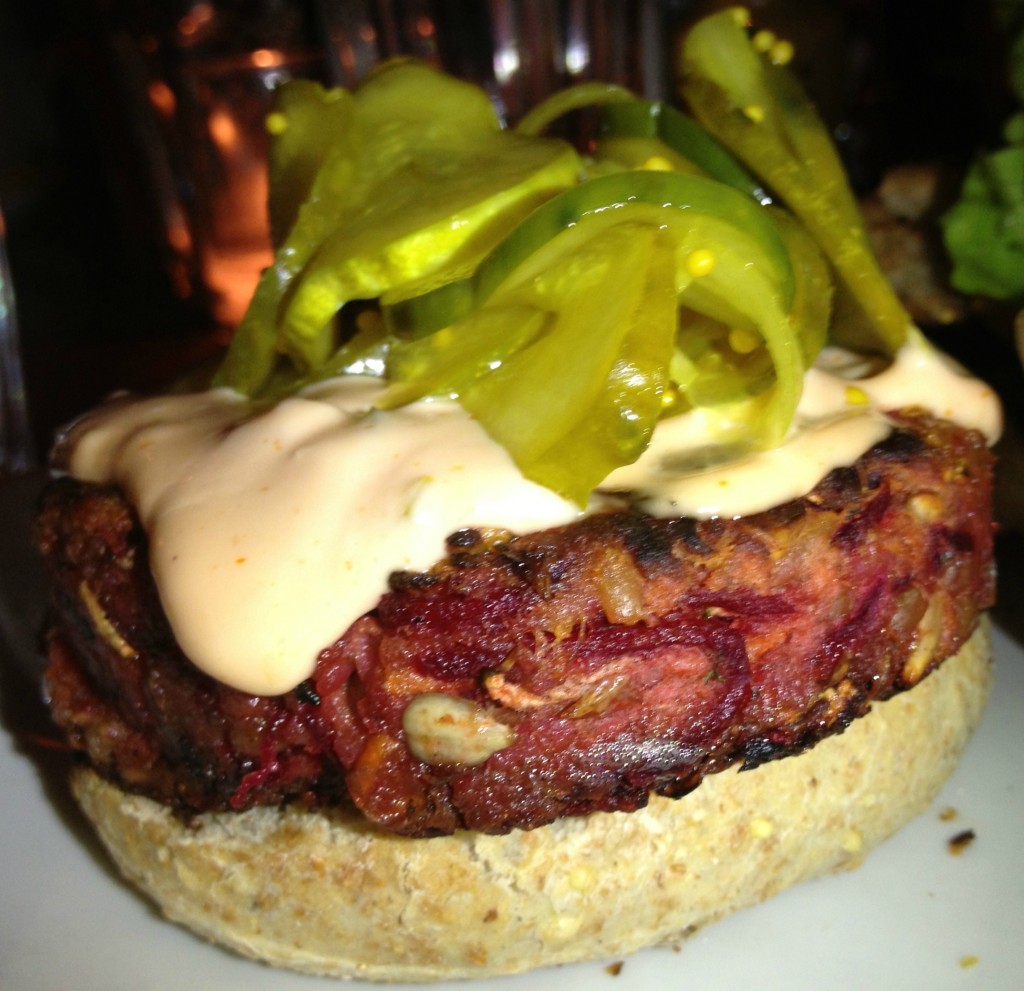 To be fair, Burger Weekly has agreed to give the point of view of the vegetarians who accompanied Brad on this Burger Adventure. Rachel liked that veggie patty had a "meaty" quality to it, meaning that it was thick and red like a hamburger would be. The beet-based patty might be her favorite in the city. Xander liked it as well, pointing out that it tasted great without having to be fried.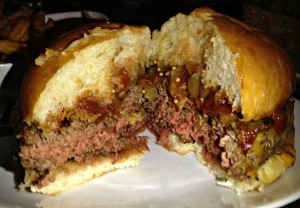 Rebecca, who beat Brad in their third game of bowling and forced this veggie burger upon him, allowed him to eat half of her Barbecue Burger, which she had heard was even better than the signature Original 5 Napkin Burger. Both Rebecca and Brad enjoyed the sweet and savory combo of the Barbecue Burger. The brioche bun was toasted perfectly and the barbecue sauce added wonderful flavor. Brad found it to be incredibly refreshing after the veggie burger, and agreed that it was probably better than the Original 5 Napkin Burger, pining only for the gruyere cheese he missed out on.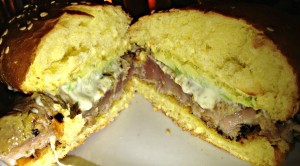 And as long as the Burgermeisters were already violating their red meat-only rule, they allowed Allegra to opine on her Ahi Tuna Burger. She ordered it rare and said that it tasted almost sushi-grade. She found it to be moist and juicy and loved the wasabi sauce that topped it.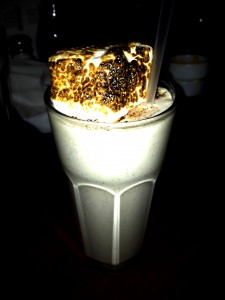 The S'mores Milkshake capped off the frenetic Burger Adventure. This delicious piece of business tastes best after the roasted marshmallow mixes in with the shake proper. It was the perfect end to an eventful night out.
The Verdict: 5 Napkin Burger is a New York burger staple for a reason: The Burgers are always juicy and delicious, and each variant (including the veggie burger) brings with it a unique reason to revisit the restaurant. If the 5 Napkin Burger in your part of town is too busy to get a table, try one of the other locations. It will be worth it.
5 Napkin Burger is located at 150 East 14th Street at 3rd Avenue.
There are also locations in Hell's Kitchen, the Upper West Side, and Astoria, as well as in Miami and Boston.