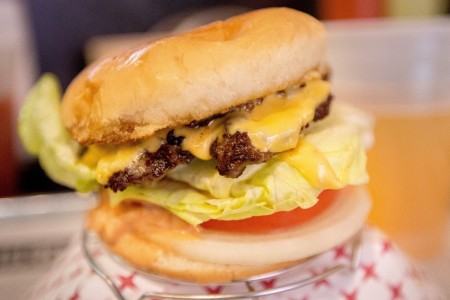 2nd City is so unique in its little West Village space that I'm almost tempted to say that it's out of place. Vibrant imagery in the Hudston Street eatery evokes memories from Chef Jordan Andino's childhood adorns the walls. Every seat in the place is a counter seat around the bar, with the exception of one window-side table. It's a lot of fun to eat in this spot, but does the food measure up?
Burger Ordered: The Fil-N-Out Burger
The Taste: Originally, 2nd City didn't serve a burger. Their kitchen wasn't really set up to sling a lot of patties, being more geared toward Hispanic vessels carrying Filipino flavors. Two weeks ago they did a week-long burger special; an homage to In-N-Out Burger. It was popular enough that they extended it a second week (which is when I was able to come in and try it) and then due to popular demand they decided to keep in on the menu full-time despite the operational difficulties it might cause. That's burger dedication that I respect to death.
And the burger is great! It's a very reasonable facsimile of an Animal Style In-N-Out burger, and it compliments the other breezy brunchy junk food incredibly well. The Plan B-Rito is especially fantastic, and reminded me of only the best food that I ate during my time in the Philippines.
The Verdict: The will of the people is the West Village's gain, as the Phil-N-Out Burger is here to stay, and you should really head down to Hudson Street to give it a try.
2nd City is located at 525 Hudson Street in Manhattan, New York.
Sign up for Burger Weekly email updates!