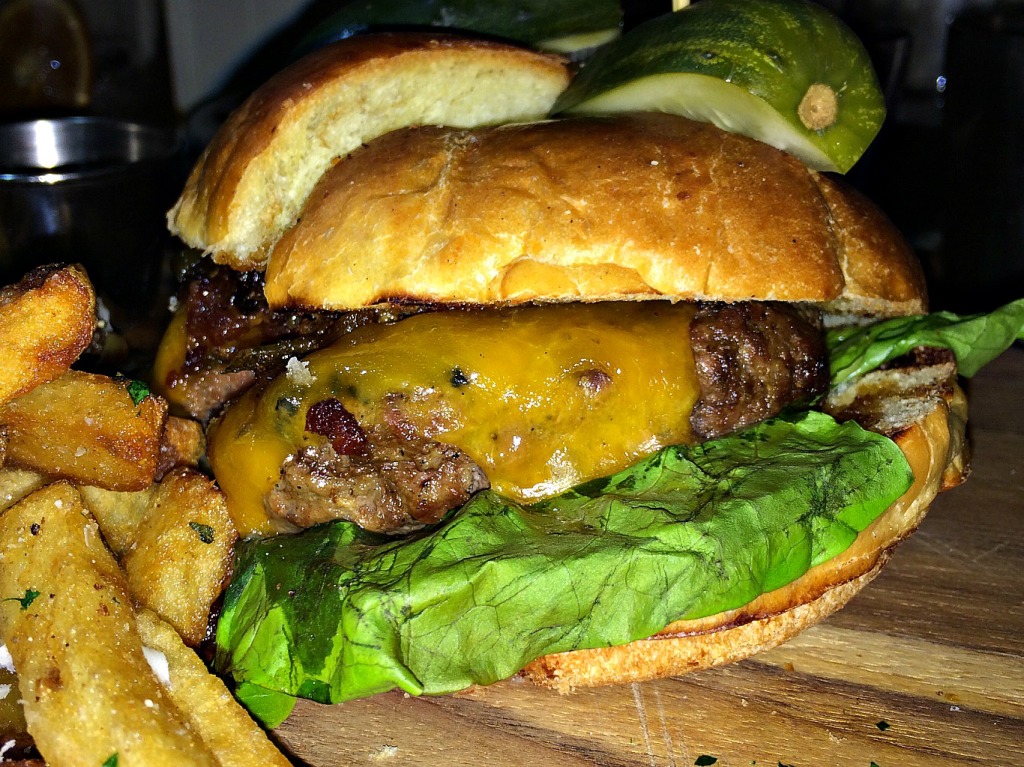 The Experience: After last week's review of my burger outing at El Mago de las Fritas was so well-received, I decided to run a three-part telling of my Burger Adventures in Miami between Christmas and New Years.
The First Lady of Burger Weekly is a big fan of the Broken Shaker at the Freehand Hostel, so our trip had to include a visit to 27. Another food and beverage option at the Freehand thanks to Bar Lab's Elad Zvi and Gabriel Orta, 27 focuses on farm-to-table ingredients with a menu pulling from various cuisines.
We ordered the lasagna, Brussels sprouts, kimchi fried rice, kale, shakshuka, and of course the burger. The courses came out a bit faster than our small table could handle, which we chalked up as a new-restaurant-glitch.
Burger Ordered: The Burger
The Taste: The Burger is a half pound Black Angus beef patty topped with house cured bacon jalapeño jam, and cheddar cheese on a brioche bun. The jam was the truth. If every burger I'd eaten in Miami had been topped with or served alongside the jam, I'd have been the happiest camper south of the Mason Dixon. The cheese was tasty and the patty was incredibly well seasoned too. My only regret was eating this burger so late in the meal, as my appetite had faded after so many other dishes.
The Verdict: I believe it would be worthwhile to visit 27 and order only the burger and a few of their delicious cocktails. While most of their other dishes were good, I think this burger deserves a spotlight all its own.
27 is located at 2727 Indian Creek Drive in Miami Beach, Florida.