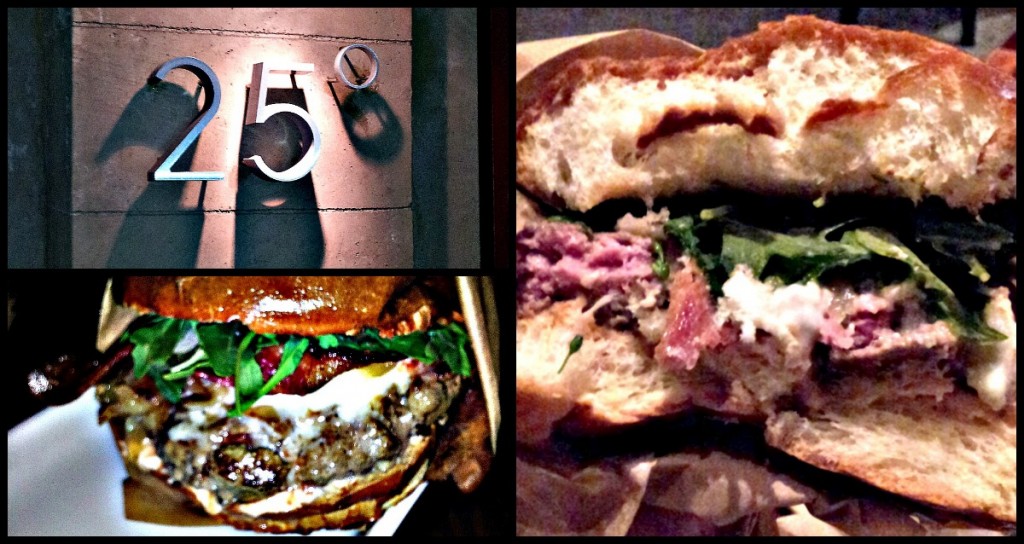 The Experience: Named after the difference in temperature between a raw and a well-done burger, 25 Degrees serves gourmet hamburgers inside the Hollywood Roosevelt Hotel. Even though it was well received by burger aficionados since day one, for one reason or another I'd never gotten around to trying it. I was out in the Hollywood area and I hadn't eaten dinner, so I decided to finally take the plunge. Our server recommended the Number One burger, which is their signature item as well as their best seller. This heart-stopping creation arrived loaded with caramelized onion, Gorgonzola, bacon, arugula, and Thousand Island dressing.
Burger Ordered: Number One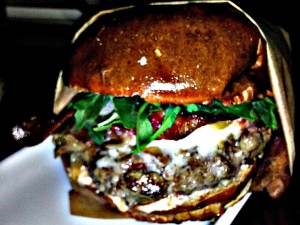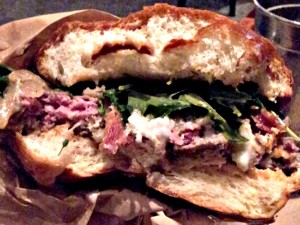 The Taste
: It took me one bite to decide this burger was incredible. The meat had fantastic flavor, but was enhanced further by the decadent toppings. The caramelized onions added a nice sweetness, but not overly so. The Gorgonzola was pretty potent, but as with the onions did not overwhelm the natural flavor of the meat. Bacon and Thousand Island are classic accompaniments that work with almost any burger, and both worked well in this combination. I guess they had to add something that won't send you to an early grave, hence the arugula. However, I will say this burger is
rich
. I was quite hungry when I got there, yet I was still unable to finish the burger, though I normally would have no problem devouring a burger of this size.
The Verdict: Let's see – Delicious and filling burgers? Check. Alcoholic Milkshakes? Check. Open 24 hours? Check. If you can't tell, I'm now a pretty big fan of this place. It is absolutely one of the best burgers I've had in L.A. Do yourself a favor and head over to 25 Degrees for one of their burger masterpieces.
25 Degrees is located at 7000 Hollywood Blvd., in Los Angeles, California